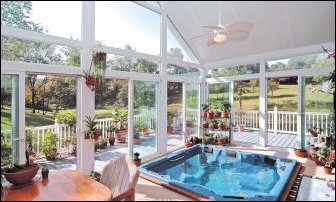 While the most popular reason people build sunrooms is for relaxation, we are noticing a shift in how homeowners are using their sunrooms
Macedonia, OH (PRWEB) June 27, 2007 -–
Patio Enclosures, Inc., the largest manufacturer and installer of sunrooms in North America, reports the top five ways consumers use their sunroom.
"While the most popular reason people build sunrooms is for relaxation, we are noticing a shift in how homeowners are using their sunrooms," says Ken Sekley, Chairman of Patio Enclosures, Inc. "Owners are making their homes more than just a place to live, they are changing their houses into gyms, spas and entertainment areas."
1. Sunroom Playrooms - Many parents and grandparents elect to make their sunroom into a playroom because it helps keep the children's toys in one area while allowing their children or grandchildren to enjoy the outdoors all season long.
2. Pet Sunrooms - Many homeowners build sunroom additions specifically to create an oasis for their dogs or cats. This is often done by owners who work during the day and are unable to let their pets outside as much as they would like.
3. Sunrooms for Exercise - Another reason why homeowners build sunrooms is to create an exercise room. This allows owners to enjoy the outdoors while working out in the comfort of their home.
4. Spa Sunrooms – Homeowners also like to have sunrooms specially designed and outfitted with all the amenities of a luxurious spa, including a hot tub, tanning bed and whirlpool foot spa.
5. Game Room - Lastly, homeowners like to create game rooms out of their sunrooms. These rooms include a pool table, bar, arcade quality pinball machines and anything else to make the game room experience complete.
About Patio Enclosures, Inc.
Patio Enclosures, Inc. has been recognized for several years by Qualified Remodeler Magazine as the Top Performing Sunroom Company in North America. Patio Enclosures, Inc. operates 30 branch locations across the United States and Canada and has more than 750 employee-owners. The company also operates three casual living furniture stores in northeastern Ohio and one in Pittsburgh.
Links:
http://www.patioenc.com/index.aspx
http://www.patioenc.com/Products/Sunrooms.aspx
For more information, contact:
Reginald Carter, Public Relations
Patio Enclosures, Inc.
750 East Highland Road
Macedonia, Ohio 44056
phone (330)468-0700 ext. 2278
###