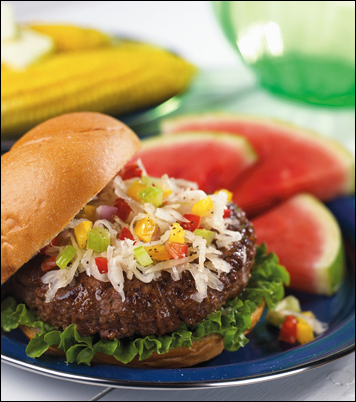 Sauerkraut's versatility and rising popularity has resulted in more people using it in homemade recipes and as a side dish or favorite hot dog or sausage topping
Bear Creek, WI (PRWEB) June 30, 2007
Explosions of color and sound will soon herald the return of Independence Day celebrations, much to the delight of millions of Americans. Sauerkraut will be part of the fun for many, igniting an extra burst of flavor in grilled hot dogs, sausages, bratwursts, and other July 4th food fare.
The Independence Day holiday is a perfect excuse to host a summer party with plenty of food and drink for family and friends. It's also an ideal opportunity to create delicious meals that are easy on the cook, easy to eat, and include flavor-enhancing ingredients like Sauerkraut.
"Sauerkraut's versatility and rising popularity has resulted in more people using it in homemade recipes and as a side dish or favorite hot dog or sausage topping," said Ryan Downs, co-owner of Great Lakes Kraut Co. "Famed chef Bobby Flay recently shared a favorite recipe for Grilled Sausage and Sauerkraut on CBS' The Early Show. Even fast food restaurants like Arby's offer sandwiches that use Sauerkraut," Downs said.
Sauerkraut is a wonderfully tart, healthful complement to any July 4th food favorites. Its juice can be used to make a great-tasting Bloody Mary or Dirty Martini.
Sauerkraut is a healthy food, according to research. Scientific studies like those done by the University of New Mexico show that chemical compounds in Sauerkraut and cruciferous vegetables in general offer the body improved cancer-fighting abilities.
"Garden Deli Sauerkraut Relish is one sure way to spice up those hot dogs, bratwursts, and sausages on July 4th," Downs said. "Try it, and turn every meal into a celebration."
GARDEN DELI SAUERKRAUT RELISH
1½ cups drained Krrrrisp Kraut® or Silver Floss® Sauerkraut, ¼ cup liquid reserved
½ cup diced yellow bell pepper
½ cup diced red bell pepper
½ cup diced celery
¼ cup diced red onion
¼ tsp. sugar or to taste
Fresh cracked black pepper to taste
In a medium bowl, stir together all ingredients including reserved Sauerkraut liquid. Serve immediately, or refrigerate 8 hours or overnight to blend flavors.
Servings: 16
Serving suggestions: Pile on burgers, hot dogs, or deli meat sandwiches.
Silver Floss and Krrrrisp Kraut Sauerkraut, winners of the ChefsBest™ Award as America's best-tasting Sauerkraut, are manufactured by the world's largest Sauerkraut producer, Great Lakes Kraut Co., LLC, Bear Creek, Wis. With processing facilities in Bear Creek and Shortsville, N.Y. -- the best cabbage growing regions in the world -- the company combines modern technology and four generations of Sauerkraut-making expertise to produce the country's leading brands. Silver Floss canned and jarred Sauerkraut is found in the canned vegetable section of grocery stores in the East, South, and Midwest. Krrrrisp Kraut refrigerated Sauerkraut is located in the meat department at grocery stores nationwide. For more information about Great Lakes Kraut and its award-winning brands, visit http://www.sauerkrautnews.com.
###