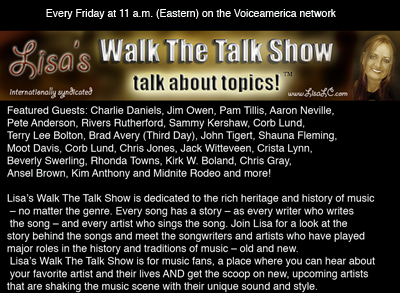 I Saw Jesus Waving The Stars and Stripes.
Rochester, MN (PRWEB) July 5, 2007
Lisa's Walk The Talk Show Second Season Premiere,"Support Our Troops" Special Broadcast Featuring Country Legends Charlie Daniels and Jim Owen, and more guests send empowering message to our troops.
Lisa's Walk The Talk "Support Our Troops" - Special featuring Country Legend Charlie Daniels. Charlie blasts open our two hour special broadcast, featuring his new CD, Live From Iraq. During the interview with Charlie, a glimpse into the man with the "fiddle of gold" shares his stories from visiting the troops, offers his prayers for our troops and he closes off the first hour with a message from a soldier you won't want to miss. Shauna Fleming founder of AMillionThanks.org tells her story of how to support our troops through writing letters to the soldiers and what a letter from a stranger means to them.
In the second hour Lisa debuts the song, "Thank You" co-written by Brad Avery of Third Day, and Scott Thomas. Brad shares his walk with Jesus and his music, and his deep gratitude to our troops. Also joining Lisa is another country legend, Jim Owen, as he shares his song, "I Saw Jesus Waving The Stars and Stripes." Jim explains how the song came about, and shares his deepest gratitude in an eloquent manner for our troops and their families. Also featured in this two hour show is the international roll out of John Tigert's song, Coming Home. John shares his heart-tugging message to the families and soldiers who are waiting to come home.
Other artist's messages and songs include: Jack Witteveen shares his song, Born An American. Kirk W. Boland, Former U.S. Army Helicopter Pilot, and re-enlisted Air Force and currently works for the D.O.D. (Dept. or Defense), Kirk debuts his song co-written by with his brother Charlie Boland, Half Her Heart Is In Iraq (Amy's Smile), sung by Susan Marshall Clinton. Chris Gray shares his story of writing his song, Red, White and Blue, (which placed number five in Lisa's Walk The Talk New Years Day 2007, Indie Artist Countdown,) while serving in the military. Terry Lee Bolton, former lead rock artist of Detroit's once famous, The Push Band, shares his message and his song, American Man. Ansel Brown, hailed the Waikiki Cowboy, shares his message and his song, When God Dreams. Kim Anthony and Midnite Rodeo will share his feelings about serving the country and shares his song, Big Blue, Full Moon.
Lisa's Walk The Talk Show resumes their regular broadcast schedule on Friday June 6, 2007 at 10 a.m. (Central). For those who may miss the fourth of July special two hour broadcast, we will be broadcasting an encore show with the first hour with Charlie Daniels and Shauna Fleming, and the second hour featuring Country legend, Jim Owen, Brad Avery (Third Day), John Tigert, and more, on July 13, 2007 at 10 a.m.
Host, Lisa Loucks Christenson commented, "The artists put their heartfelt messages into these interviews, not because they had to, but because they all felt the troops and families would be encouraged. At least three of the artists wrote their songs just for the troops. A two hour show, told from artists, and from men who have served this country; some even wrote their songs, inspired by their call of duty. It's an two hour show that I promise, personally, will bless you."
You won't want to miss this second season premiere of Lisa's Walk The Talk Show.
Lisa Loucks Christenson
Lisa's Walk The Talk Show - Fridays at 8am Pacific
Host Bio: Lisa Loucks Christenson is a national award-winning author and photographer. She is a national speaker, mentor, and the talk show host of Lisa's Walk The Talk Show, now in its second season. Lisa also owns Ecompass Business Center & Alarm, LLC, a twenty-year-old communications company serving clients business support needs nationwide, and is the publisher of Loucks Christenson Publishing, LLC, a small independent publisher specializing in children's books, and her nationally known wildlife documentaries. Her wildlife gallery and studio is located in Rochester, Minnesota. Her photos and writings appear regularly in books, magazines, trade journals, and she has even written several online photo courses. Lisa comes to the microphone with a diverse background in publishing, sales, advertising, marketing and communications. Lisa's career includes conducting interviews with people from all "walks of life".
Show Description: Lisa's Walk The Talk Show is dedicated to the rich heritage and history of music - no matter the genre. Every song has a story - as every writer who writes the song - and every artist who sings the song. Join Lisa for a look at the story behind the songs and meet the songwriters and artists who have played major roles in the history and traditions of music - old and new. Lisa's Walk The Talk Show is for music fans, a place where you can hear about your favorite artist and their lives AND get the scoop on new, upcoming artists that are shaking the music scene with their unique sound and style. Lisa's brings to VoiceAmerica listeners a wide array of artists, including Charlie Daniels, Pam Tillis, Sammy Kershaw, Rivers Rutherford, Brad Avery, Aaron Neville plus many more. You won't want to miss a single episode - tune in every Friday morning at 8 AM/Pacific, 11 AM/Eastern to Lisa's Walk The Talk Show, right here on the VoiceAmerica Channel.
Host URL
http://www.lisalc.com
Executive Producer
Brandy Jackson
Lisa's Walk The Talk Show is produced by Loucks-Christenson Publishing, LLC, based out of Rochester, Minnesota.
Lisa's Walk The Talk Show is an internationally syndicated show on the VoiceAmerica Network, one of the largest talk radio, and their first music and talk show, and some of the affiliate stations include: HopeRiverRadio.fm, NYCountryRadio.com, USACountryRadio.com, Nixa Country, Super Country Radio, Coppersunmedia.com, Highway40Country.com, ConfederateRadio.net, JJRN.net, WideMusic.com, CIWRADIO.com (Ireland), ZFM.com.au (New Castle, Australia), KCMRWORLDRadio.com, RadioCIA.com, ArizonaPureRadio.com, Bassendeantownradio.net.au (Australia), Gippsland FM 104.7 (Australia),Miaotw-radiostation1 (The Netherlands), RTHUNDERRADIO.biz and more.
Lisa's Walk The Talk Show will air live on Friday, July 6, 2007 at 9 AM Pacific / 12 PM Eastern on The VoiceAmerica Channel with a special two-hour broadcast at 6 AM / Pacific.
The VoiceAmericaTM Network offers the latest conversations in a talk radio format, providing education, interaction, and advice on key issues live, on demand as well as through pod cast download. If interested in hosting a talk radio show on VoiceAmerica Network, contact Jeff Spenard, Vice President of Internet Radio at 480-294-6417 or at HYPERLINK "mailto:jeff.spenard@modavox.com" jeff.spenard@modavox.com.
To access the show, log on at HYPERLINK "http://www.modavox.com/voiceamerica" http://www.modavox.com/voiceamerica. All shows will be available in Lisa's Walk The Talk Content Library on The VoiceAmericaTM Channel for on-demand and pod cast download.
Contact Executive Producer Brandy Jackson at 480-294-6411 or brandy.jackson @ modavox.com" brandy.jackson@modavox.com for advertising / sponsorship information or other show details.
About Modavox/VoiceAmerica
Modavox is the leading producer and distributor of online, talk radio content, streaming approximately 250 hours of live programs and scheduled replays weekly on its Modavox VoiceAmerica™ Network (HYPERLINK "http://www.voiceamerica.com/" t "_blank"http://www.voiceamerica.com). Modavox, Inc. (HYPERLINK "http://www.modavox.com/"http://www.modavox.com) is a pioneer in internet broadcasting, producing and syndicating online audio and video, and offering innovative, effective and comprehensive online tools for reaching targeted niche communities worldwide. Through its patented Modavox Central™ technology, Modavox "takes the search out of search," delivering content straight to desktops and internet-enabled devices. Through its proprietary StreamSafe™, WebcastWizard™ and Stream Syndicate™ tools, Modavox provides managed access for live and on-demand internet broadcasting and syndication; content management; and online meeting, event management, enterprise communications and distance learning.
###