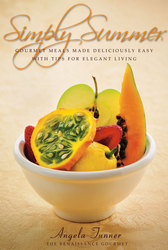 The secret to easy cooking, especially gourmet cooking - that secret is in my book.
Vancouver, BC (PRWEB) August 1, 2007
Angela's new cookbook, 'Simply Summer- Gourmet Meals Made Deliciously Easy with Tips for Elegant Living' espouse her "no-cook" approach which refers to Angela's use of smaller, more energy-efficient appliances to prepare quick, delicious meals without having to turn on the oven or stove. This approach is perfect for those increasingly sweltering summer days, which scientists agree has everything to do with human being's activity increasing the amount of greenhouse gases emitted into our environment.
Angela makes versatile good use of toaster ovens, microwaves, blenders and other small kitchen appliances that use up to 75% less energy than a large electric oven in preparing simple recipes that use easily available ingredients found in neighborhood grocery stores. Given that the average kitchen uses more energy than most rooms in the house, cutting back on using the "energy hogs" is one small, but important way to reduce greenhouse gas emissions while making meals that provide families with a chance to reconnect. And without a hot stove or oven on in the summer to over-work an already full-tilt air conditioning system, you'll have virtually no excuse for creating some "no-cook" classics that are sure to keep you cucumber cool.
Warm summer days, suggests Angela, are ideal for minimal culinary fuss and maximum flavor, minus the stress. Angela's experienced tips include knowing how to stock your pantry for simple summer cooking, recipes (with corresponding shopping lists) and cooling tips to beat the summer heat. Angela's your very own weather-buster, come rain or shine.
Cool Summer Tips Include:

Set a moving fan behind a moving water fountain or bowl of ice.
Keep a spray bottle filled with spring water and lavender oil handy to keep you cool. Spray a bit on the inside of your elbows, the back of your neck, and behind your knees when you're feeling hot. As the water evaporates, it cools your body.
Sprinkle bed sheets with non-talc baby powder before climbing into bed.
Like to work out? Do it in the morning while it's still cool. Moving keeps you warmed up. Lie around for optimum cool.
Close your blinds and drapes to keep your house cool. Use fans to circulate the air.
Keep a pitcher of flavored water in the fridge to sip on. The addition of fresh lemon or lime slices makes the water much more refreshing and delicious.
Sample meal ideas include:
Summer Sandwiches with fresh twists and surprise ingredients that will make you say mmm.
Blender-ready Summer Soups made with fresh melons, Port and honey for a tasty summer soup.
Lip-smacking summer salads prepared with seasonal fruits and vegetables.
Toaster oven toasted nuts that add texture and dimension to desserts and salads.
Dinner salads using supermarket rotisserie chicken with pears and goat cheese.
Note from the Author:
"I was prompted to write this book for several reasons. First, the birth of my son made me want to pass on my knowledge to him. Second, the experience of being a novice cook turned chef had taught me a valuable lesson. I had always thought cooking was hard. I would read countless cookbooks and still not feel I was really improving as a cook. Not until I was trained to be a chef did I learn that cooking is easy - any time of year, holidays included. Why? What is the secret? Most cookbooks assume that all readers have the same knowledge base. We don't. I've discovered that cooking is easy as long as you know and do certain basic things."
"The secret to easy cooking, especially gourmet cooking - that secret is in my book."
For more information, or to book an interview with Angela Tunner, please contact Kimberly Plumley of Publicity Mavens at 250-390-9285 and email at kim @ publicitymavens.com.
###