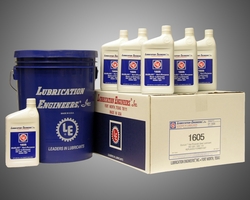 Fort Worth, TX (PRWEB) August 1, 2007
Lubrication Engineers, Inc. (L.E.) is proud to launch their latest exciting 'Enhanced Lubricant™' to the market -- a new, improved product that will supersede L.E.'s now legendary ALMASOL® Vari-Purpose Gear Lubricant: the 1601-1609 DUOLEC™ Vari-Purpose Gear Lubricants (DVPGL). This new product range offers L.E.'s customers significant performance improvements versus even the impressive ALMASOL® gear oils. It includes L.E.'s new unique proprietary additive DUOLEC™ that was developed specifically for use in gear oil applications. The 1600 DUOLEC™ Series also provides many other benefits that this new gear additive technology is able to deliver including an incredible FZG Test 14th Stage Pass, Timken OK Load of 75lbs, greater thermal stability, improved shear resistance, better water separation & the ability to be filtered to low micron levels without harming or removing additives. The 1601-1609 DUOLEC™ Vari-Purpose Gear Lubricants are high performance technology gear oils developed to surpass the challenges of today's more demanding applications in the industrial & mobile equipment markets:
Proprietary Additive
The 1601-1609 DUOLEC™ Vari-Purpose Gear Lubricants contain L.E.'s new dimension proprietary additive DUOLEC™ -- a 'dual acting' liquid additive that shares attributes of both L.E.'s ALMASOL® & MONOLEC® but offering even better wear protection. DUOLEC™ incorporates revolutionary new technology which is thermally activated to provide 'dual' levels of anti-wear & extreme pressure protection that form a solid-like protective layer on the metal surface. This layer then fills surface asperities, effectively smoothing the surface & minimizing the effects of any metal to metal contact thereby reducing friction & preventing welding & surface wear. Testing for the friction reduction capabilities of DUOLEC™ was conducted using the SRV friction test machine. The test results showed a 25% reduction in friction over the base oil when DUOLEC™ was incorporated. As increasing numbers of O.E.M's are requiring more stringent cleanliness levels, this new liquid additive also allows the DVPGL line to be filtered to much cleaner levels than with ALMASOL®.
New Numbering System
The DUOLEC™ line has a new numbering system beginning with 1601 (ISO 46) & ending with 1609 (ISO 1000) -- with the relevant ISO numbers in ascending order. All products apart from 1609 have their last digits relating to the AGMA Viscosity Grade numbers of the products. For example, 1605 is AGMA 5EP Grade.
Additive Backbone
The 1600 Series contains a new additive system that is exclusive to L.E. & is the result of numerous years of research. The backbone of the product is based on the proven technology used for many years in several of L.E.'s synthetic products. The new 'Enhanced' package provides superior performance & meets the industrial gear claims of US Steel 224 & AGMA 9005 E02 as well as the API GL-5 specification for severe automotive conditions -- a performance level that few other industrial gear oils are able to claim. Typical industrial gear oils are not formulated to meet this high level of performance.
Improved Thermal Stability
The new line is formulated with more thermally stable & oxidation resistant extreme pressure (EP) additives that do not sacrifice any load-carrying capability. Its oxidation resistance provides improved thermal stability at elevated temperatures. In fact the DUOLEC™ line boasts impressive EP performance with a Timken OK Load of 75lbs along with reduced deposit formation.
Proprietary 3-Component Shear Stable Tackifier System
L.E.'s R&D Department has developed a new 3-component tackifier system that provides improved gear climbing & adhesion to metal surfaces whilst minimizing the amount of shear experienced by the product when in service or even when filtered to low micron levels.
Improved Water Separation
The incorporation of new & improved demulsifiers in the DVPGL package along with an impressive synergistic combination of additives provides even better water separation performance. The easy draining of water from a gearbox means longer oil life and no possibility of gearbox rust problems.
New Defoamant
The 1600 DUOLEC™ Series contains non-silicone Defoamants which are not easily removed when the gear oils are filtered, thus they also last longer in the oil. They help to improve the ability to monitor direct contamination during oil analysis as the gear oil does not contain silicone which can sometimes confuse customers when trying to remove dirt from their oil.
Compatibility with ALMASOL® Vari-Purpose Gear Lubricants
The 1600 DUOLEC™ Series has been thoroughly tested & is completely compatible with the ALMASOL® Vari-Purpose Gear Lubricant line that it is replacing -- meaning that L.E.'s current gear oil customers should have no concerns about converting their gearboxes from ALMASOL® to DUOLEC™ Vari-Purpose Gear Lubricants. They will just be able to enjoy the improved performance of a new dimension 'Enhanced Lubricant™'.
Outperforms equivalent competitive products on the market
The 1600 DUOLEC™ Series' Timken OK Load of 75lbs is even 10lbs higher than L.E.'s original ALMASOL® 600 Series; resulting in better Extreme Pressure (EP) performance. Its high 4 Ball Weld Point & Load Wear Index (LWI) result in far better 'load carrying' performance than similar competitive products on the market today.
"The replacement product range for our extremely popular & successful ALMASOL® Vari-Purpose line was always going to have to be incredibly impressive -- we have done even better than planned with our new DUOLEC™ Vari-Purpose line. The performance of these new gear oils is just outstanding and gearbox operators worldwide will very quickly understand that DUOLEC™ will improve the reliability & performance of their expensive equipment -- their production & profits will increase", said Scott Schwindaman, President, Lubrication Engineers Inc.
Lubrication Engineers Inc, USA has been a leader in lubricants since 1951. L.E. manufactures and markets a comprehensive line of heavy-duty, premium quality lubricants formulated from the highest quality select base stocks. These lubricants are manufactured under an ISO9001 certified quality system at a state of the art plant in Wichita, Kansas, USA. L.E.'s objective: increase your profitability. L.E. products are designed to increase profitability through: longer equipment life, extended service intervals (reduced lubricant consumption), energy reductions, reliability (less downtime), fewer repairs (fewer parts & less labour) as well as less inventory (multi-purpose products) L.E. products are available worldwide (outside USA, Canada & Mexico) through L.E. International AG's network of over 50 distributors.
###