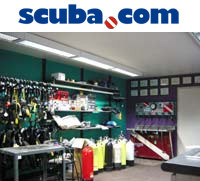 Some people do not know that Scuba.com has one of the most sophisticated factory authorized dive repair centers in the United States, which is teamed by the top names in the industry
Irvine, CA (PRWEB) August 14, 2007
Scuba.com recently expanded its full-service repair facility, and company officials say it is now even better equipped to provide scuba divers everything needed to keep their scuba gear in top shape.
The new, expanded repair facility is factory authorized to service more than 100 brands of scuba diving gear, and the employees who staff the facility can provide scuba equipment buyers with maintenance tips.
"Many people are familiar with the fact that Scuba.com is factory authorized to offer thousands of scuba and snorkeling items to purchase for your next adventure," said Melinda Herndon, who co-founded Scuba.com in 1990. "Scuba.com is also known for toll-free access to scuba diving instructors who can answer your strangest diving questions seven days a week. The team of more than 10 instructors includes some of the highest-trained scuba instructors in the nation, including multiple course directors with years of teaching experience. Course directors are the guys who teach the teachers."
According to Herndon, the employees and services available at Scuba.com are among the most comprehensive for the industry in the country.
"Some people do not know that Scuba.com has one of the most sophisticated factory authorized dive repair centers in the United States, which is teamed by the top names in the industry," she said. "Since the repair department is open five days a week, and a complete line of standard replacement parts is kept in stock, most repairs have a turn-around time of less than two weeks."
About Scuba.com
Founded in 1990, the company specializes in retail and Internet sales and repair of scuba and snorkeling gear. The founders are certified scuba instructors who obsessed about turning a hobby into a profession by hiring and training other certified scuba instructors to offer a uniquely high level of knowledge and experience to the company's customers. Scuba.com instructors answer a toll-free, (800) line, and assist in the company's retail show room -- a point of strong differentiation in the marketplace where many scuba retailers do not offer assistance by people who are certified to dive, let alone those who teach it. For more information, see the Scuba.com service and repair page.
###