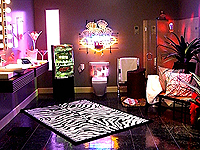 Knoxville, TN (PRWEB) August 3, 2007
It is estimated that the average American spends roughly seven years over a lifetime in the bathroom. HGTV BathDesign, in a series of 10 interactive broadband videos, dishes out fantastic design ideas on how to reclaim that time.
Krista Watterworth, the charismatic host of HGTV's Save My Bath whets viewers' imaginations with wonderfully outlandish bathroom designs, and equips them for action with information on how to purchase all of the products featured, right down to the paint color used on the walls.
Here are a few design innovations to spark the imagination, as featured in HGTV BathDesign's Ultimate Bathroom series:

Stretching multi-tasking to new heights, HGTV BathDesign presents an Ultimate Bath "Home Office," a bathroom outfitted with computers, printers, file cabinets, shredders and more, proving there is no better way to begin your workday than with a cup of coffee in the comfort of your own bathroom.
HGTV BathDesign provides a refreshing alternative for a child's Ultimate Bath with a bathroom design plan featuring chalkboard walls-perfect for doodling, dreaming and designing. An affordable and simple option, chalkboard walls transform bath-time into playtime.
If a night on the town is your idea of fun, the Ultimate Vegas Bathroom is the bath design for you. With lights, energy and a hint of fantasy, this bathroom is the premium getaway for those who love to take a trip down the strip! Equipped with a showgirl mirror, slot machine and a neon lights as bright as Las Vegas itself, the Ultimate Vegas bathroom is a crowd-pleaser.
From popcorn to sewing machines, HGTV's BathDesign has it all. The Ultimate Bathroom series proves that with a vivid enough imagination, any space can become an ideal living place.
HGTV BathDesign features hundreds of streaming videos on the latest bathroom design trends, step-by-step instruction for bathroom fixes and expert room makeover tips. This dynamic online platform includes a variety of interactive tools to enable the user to personalize, plan and share ideas and projects.
Scripps Networks Interactive:
The dynamic Web sites created and supported by Scripps Networks Interactive attracted an average of more than 13.5 million unique visitors per month in 2006. The Scripps Networks Interactive properties -- Web sites HGTV.com, FoodNetwork.com, DIYnetwork.com, FineLiving.com, GACTV.com along with broadband channels HGTV Pro, HGTV KitchenDesign, HGTV BathDesign, HGTV SimplyQuilts, DIY Automotive, DIY Crafts, DIY Gardening, DIY Home Improvement, DIY Woodworking and GAC Still Rollin'-- are not only extensions of Scripps Networks leading lifestyle brands, providing users programming information and additional instructional content, but also exciting destinations for original content, engaging video and powerful interactive tools.
###