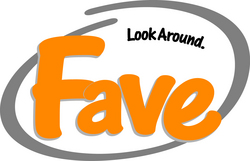 It references when there's that itch to find something you want
Chicago, IL (PRWEB) August 2, 2007
Fave 1.0.4, Chicago's new neighborhood browser, has recently been released on some of the most prominent freeware sites:
http://www.download.com
http://www.apple.com
http://www.freedownloadscenter.com
Fave 1.0.4 can also be downloaded from Fave Media Inc.'s website, http://www.getfave.com.
Fave is a neighborhood browser that accesses, retrieves, and prioritizes information from an exclusive neighborhood commercial database, and presents its results in a geocentric, continuously updated, searchable, and web-linked format.
The Fave browser permits its users free and complete access to Fave's neighborhood-based content, including comprehensive business listings, classifieds, RSS feeds, and exclusive videos, without annoying ad clutter. The user may also surf and utilize the entire web seamlessly through the Fave browser, commingling mainstream web sites with the Fave content at will.
Fave comes fully loaded with 350,000 northeastern Illinois businesses and organizations, all key-worded, categorized, and geo-located by neighborhood, zip code, and town. Results are listed for consumers by proximity to where they are, or to where they will shortly be, accompanied by maps, contact information, and Web site links. Thereby every local business is listed in Fave, and has the opportunity to appear on "page one" when a user selects the vendor's keyword and geography.
Fave represents someone's favorite things and their favorite searches. The name for the software was initially conceived on the principle that those things someone is searching for are favorite things, even if that means interpreting them as only temporary or short-term favorites. "It references when there's that itch to find something you want," says John Reynolds, VP of Marketing. People often search the same keywords time and time again, which led to an added feature to help users be more efficient. Fave saves all searches so the user can come back to them quickly and easily, without ever having to worry about re-creating a successful search.
Fave™ is the latest twist on the local search engine, and it's remarkably different from traditional Web search products like Google, Ask, and Yahoo. The most cutting-edge feature of the free Fave software application is its ability to comprehensively find local products and services without ever showing you a single irrelevant ad. Fave's categories of search include businesses and groups providing merchandise, services, real estate, leisure, health, career, community and library.
Fave business listings come with contact name, address, telephone number, location map, and if the business has a Web site, a link to it. Fave shows the user both businesses that do have Web sites, as well as those that do not. It also links every entry to Google maps, so you can quickly find where it is if you're not familiar with the exact location.
###