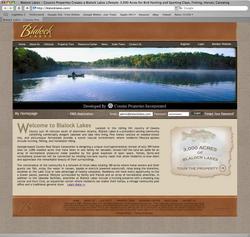 The BlalockLakes.com website takes advantage of the latest web technologies such as AJAX using the script.aculo.us libraries and interactive Flash applications to enhance the end user experience for the Blalock Lakes Realtors, community members and end users coming to the site
Atlanta, GA (PRWEB) August 2, 2007
Cousins Properties Incorporated has taken Blalock Lakes, its rustic lakeside community south of Atlanta, to the Internet with the launch of its richly redesigned, user-friendly Web site, Blalock Lakes AJAX powered web site.
Blalock Lakes is setting a new standard for gracious, quiet family living in Coweta County, Georgia., just 45 minutes from downtown Atlanta. The precedent-setting, 3,000-acre property is a seclusion of 399 pristine home sites centered around three lakes totaling 180 acres. Half of the property, some 1,500 acres, will be set aside for hunting, fishing, horseback riding and other outdoor leisure activities.
The Blalock Lakes Web site, though designed with the latest rapid-fire online technology, recreates the charm and laid back ease of the community. Users will be able to review lots for sale, reserve time for horseback riding, sporting clays or bird hunting, or post individual Web information about themselves and their families.
The site, which is now live, has a number of features to help public visitors experience Blalock Lakes online, including:

A search mechanism with an interactive lot map that lets users select lots, browse lots using specific criteria or search for a specific home site
A feature allowing visitors to message Blalock Lakes' agents to schedule visits to the property
An events calendar to let visitors keep up with community happenings
A photos gallery with continual updates of the community's progress
A link to Pine Mountain Builders, Blalock Lakes' preferred homebuilder
Expert consultant bios of Andi Burroughs, Marty Fischer, Greg Grimes, and Rans Thomas
The Blalock Lakes site will also serve as the online gathering place for members of the Blalock Lakes community. The private pages of the site will allow users who have purchased property at Blalock Lakes to:

Schedule time on the Blalock Lakes sporting clays facility and the riding course, coordinate bird hunts, or plan other outdoor activities.
Add their contact and family information into an interactive community directory
Place notices to neighbors using a Flash bulletin board with sticky notes.
The site will also include interactive features for Realtors at Blalock Lakes. The administrative pages of the site will allow on-site agents to:
Utilize a complete CRM application that allows agents to track sales activity and contacts throughout the sales cycle and view appointments in a calendar
Manage lot sales and calendar schedules
Manage requested showings and the community events calendar
Upload home site photos, as well as progress photos of the Hunt Club, the Boat House and the Stables
"The BlalockLakes.com website takes advantage of the latest web technologies such as AJAX using the script.aculo.us libraries and interactive Flash applications to enhance the end user experience for the Blalock Lakes Realtors, community members and end users coming to the site," stated Fred Tanzella, CEO of Glick Interactive, the developers of the BlalockLakes.com website.
Blalock Lakes is a premier community devoted to nature lovers and sportsmen located in Newnan, Georgia. Blalock Lakes is 30 minutes southwest of Atlanta's Hartsfield-Jackson International Airport, and about 45 minutes from downtown Atlanta. Blalock Lakes is also conveniently located to Newnan-Coweta Airport, which is accessible by private and corporate jets.
For more information on Blalock Lakes, visit the website at Blalocklakes.com Website or contact Shawna McKinnon at 770-683-7100.
CONTACT:
Media:
Walter Woods
GCI Group
404/260-3564
wwoods @ gcigroup.com
Cousins Properties Incorporated, headquartered in Atlanta, has extensive experience in the real estate industry including the development, acquisition, financing, management and leasing of properties. The property types that Cousins actively invests in include office, multi-family, retail, industrial and land development projects. The Company's portfolio consists of interests in 7.7 million square feet of office space, 5.4 million square feet of retail space, 2.0 million square feet of industrial space, 671 for-sale units in two under-development multi-family projects, 24 residential communities under development, over 9,000 acres of strategically located land tracts, and significant land holdings for development of single-family residential communities. The Company also provides leasing and management services to third-party investors; its client-services portfolio comprises 14.1 million square feet of office and retail space. The Company is a fully integrated equity real estate investment trust (REIT) that has been public since 1962 and trades on the New York Stock Exchange under the symbol "CUZ." For more information on the Company, please visit its Web site at http://www.cousinsproperties.com.
Certain matters discussed in this news release are forward-looking statements within the meaning of the federal securities laws and are subject to uncertainties and risks, including, but not limited to, general and local economic conditions, local real estate conditions, the activity of others developing competitive projects, the risks associated with development projects (such as delay, cost overruns and leasing/sales risk of new properties), the cyclical nature of the real estate industry, the financial condition of existing tenants, interest rates, the Company's ability to obtain favorable financing or zoning, environmental matters, the effects of terrorism, the ability of the Company to close properties under contract and other risks detailed from time to time in the Company's filings with the Securities and Exchange Commission, including the Company's Annual Report on Form 10-K for the year ended December 31, 2006. The words "believes", "expects", "anticipates", "estimates" and similar expressions are intended to identify forward-looking statements. Although the Company believes that its plans, intentions and expectations reflected in any forward-looking statement are reasonable, the Company can give no assurance that these plans, intentions or expectations will be achieved. Such forward-looking statements are based on current expectations and speak as of the date of such statements. The Company undertakes no obligation to publicly update or revise any forward-looking statement, whether as a result of future events, new information or otherwise.
###