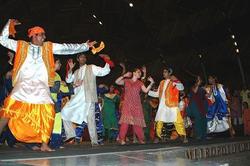 We expect over 14,000 people this year
Boston, MA (PRWEB) August 6, 2007
The India Association of Greater Boston (IAGB) will host its annual India Day event, a showcase of the unique ethnic and cultural diversity of India, from 4 p.m. to 9 p.m. on Sunday, August 12, 2007. This year holds a special significance as it is the 60th anniversary of India's independence from British rule on August 15, 1947.
The celebration of the independence of the world's largest democracy will be a grand event for family and friends. "We expect over 14,000 people this year," said M. Rajinikanth, the President of IAGB. "Our central attraction is a cultural program presented by the many highly talented arts groups in the Greater Boston area. This will include a grand presentation of colorful and vibrant dance numbers and rich music items featuring Bollywood, Indian classical, traditional and modern folk art forms from India's diverse regions and the high-energy bhangra styles."
An 11-member cultural committee led by its chairperson Sutanuka Basu has been working for months to produce and coordinate the event.
A wide variety of mouthwatering Indian food from popular restaurants in the area will be available for purchase. A large number of Indian American organizations in the Boston area are setting up informational booths on the lawns presenting various interests and activities ranging from ethnic crafts like Henna paintings to Yoga information booths to complimentary health check ups by the IMANE, to activities by the Museum of Science.
"IAGB succeeds due to the dedication and hard work of its volunteer officers and because of continued enthusiastic support from the community. On occasions such as these, the entire community can get together to celebrate its beautiful heritage," said Vinod Chungi, Vice President, IAGB.
The IAGB has been serving the Indian American community in the Greater Boston area since 1962. Its mission is to preserve and foster Indian culture. More details at India Association of Greater Boston.
# # #