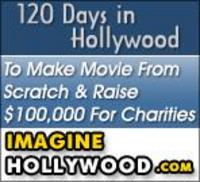 When making short movies, I had a video production company and I interviewed older people for Legacy Videos. For years, I heard 'I regret that I didn't do this and that.'
Toronto, ON (PRWEB) August 8, 2007
Mike Slawomir Cecotka will be dropped in Hollywood on Aug 16 with no friends and industry connections. Just access to high speed Internet and cell phone. He has 120 days to make a movie from scratch and raise $100.000 for 10 charities. Xtreme Filmmaking Event will be completed on Dec 08 with a Fundraising Gala together with a movie screening in the Hollywood theatre and a premiere online.
"When making short movies, I had a video production company and I interviewed older people for Legacy Videos. For years, I heard 'I regret that I didn't do this and that.'," says Cecotka. "I thought about these things, but I also left my dream collecting dust in the process. I'm also trying to move the spotlight on small charities that have no publicity, money, and stars attached. After the event, they will enjoy more exposure. There is one more reason -- move as many people through real life experience as possible, so those with fear and procrastination will start their own projects in January 2008."
Join Mike in the Hollywood theatre before Christmas, register at social network at http://www.ImagineHollywood.com -- no experience necessary, and all are welcome. This is non-union event.
"There is a mind game at the end of welcome video. If we end up in the same place it means we are compatible." says Cecotka
Stay tuned with daily progress of the event through short videos or live video feed visit official blog -- http://www.makemovies.tv
Advertising packages will be released few days after online audiences vote which idea will be turn into a movie.
"There is nothing special about me. I'm just going for my passion - filmmaking in the city of my dreams - born over 20 years ago in Poland with massive action and all cards on the table. I hope that it will inspire you to do whatever it takes with your dreams, so when doing your legacy video there will be no regrets," says Cecotka
Mike Slawomir Cecotka is an award winning director, editor, videographer and filmmaker with over 10 years of experience.
His latest project "Schizophrenia" - official selection at San Francisco Digital Film Festival and Alternative Film Festival in Italy is available on DVD or Pay-Per-View at http://www.schizophreniamovie.com/dvdrelease.html
Contact:
Mike Slawomir Cecotka
Email: mike @ 101filmmaking.com
Skype: mikefromtoronto
Canadian phone before Aug 10th
Cell # 647-830-4303
###