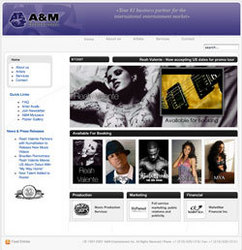 We wanted to make sure the new site would be easy for our clients and promoters to navigate
Houston, TX (PRWEB) August 8, 2007
International talent agency A&M Entertainment has launched its new website http://www.amentertainment.com. The newly designed site is an extension of A&M Entertainment's Talent Agency Division and includes an easy viewing talent roster and electronic press kits, frequently updated talent avails, and offers new services such as music production and entertainment investment opportunities.
In addition to the new look, the redesigned amentertainment.com introduces interactive features and various multimedia functions. Artist EPKs and music players will offer one sheets and music snippets on acts who are touring or have upcoming album releases.
"We wanted to make sure the new site would be easy for our clients and promoters to navigate," says Mike Coates, A&M Entertainment's Executive VP. "Our concept of A&M Entertainment's future includes being able to offer more than just two or three services. We're expanding and our goal is to continue great working relationship with our clients; and being able to provide them with the services they need to ensure a successful outcome."
Key changes include:

New & updated look
Easy viewing talent roster & talent avails listing
Talent electronic press kit section
New music production & investment services
New Multimedia
A&M Entertainment plans to continuously enhance and revolutionize amentertainment.com. The company has future plans to expand its artist management division as well as enter into concert tour promotion and specialized event marketing. Industry professionals can sign up for A&M Entertainment's monthly newsletter and talent avails e-mails by visiting amentertainment.com.
About A&M Entertainment:
A&M Entertainment is a full service international entertainment, management and promotion agency based in Houston, Texas. Originally founded in Europe in 1997, A&M Entertainment launched the US Division in 2005 and has since then become one of the most recognized booking agencies in the US. A&M Entertainment represents some of the world's most renowned artists and DJs and offers a wide range of entertainment and event platforms in the form of tours, concerts, hosting engagements and public appearances.
For more information on A&M Entertainment, please visit http://www.amentertainment.com or contact Hope Franklin at (516) 620-1216.
###