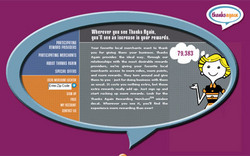 the ultimate debit card for rewards is already in consumers' hands
Tyrone, GA (PRWEB) August 8, 2007
Industry watchers say credit card companies are grappling with ways to reach out to cardholders who want those incentive airline miles and cash back rewards, but don't want to incur extra debt by opening new accounts or charging more to earn them.
The philosophy of newly launched online rewards program ThanksAgain.com is that "the ultimate debit card for rewards is already in consumers' hands," said company President and COO Ed Puckhaber.
Puckhaber and Thanks Again owner/CEO Marc Ellis used their experience in corporate banking to set up a program in which a credit/debit card holder can register up to five existing cards to earn incentive airline miles at local shops where they already do business. With all of their credit/debit cards registered under one incentive program, customers don't have to remember which card earns them miles or cash back.
"Our brand resonates with both participating local merchants and registered consumers," Puckhaber said.
Customers who can't find their favorite spa, salon, or other local business in the Thanks Again rewarding network database can suggest those merchants for participation. The concept is for customers to earn rewards for normal spending, not just for one-time credit card purchases. For incentive providers, the idea that consumers can reap the ultimate debit card rewards almost effortlessly is an attractive feature, he said.
"Thanks Again provides a triple win to our clients: consumers, local merchants and national reward programs," added Ellis. Consumers can now earn securely, and for free, highly sought-after rewards like incentive airline miles and cash back when doing their everyday shopping. Local merchants are equipped with a cost-effective loyalty program that will grow their business. And, our reward program partners can distribute rewards to members via a growing nationwide local merchant network."
Through 9/30/2007, consumers who register at ThanksAgain.com earn 500 airline miles for registering, and another 500 miles when they make their first transaction at a business in the rewards network. Ongoing, they earn one airline mile for each dollar spent with those participating merchants. There is also a cash back option whereby the member can elect to earn 2% cash back instead of miles.
Ellis and Puckhaber say the Thanks Again structure provides the ultimate debit card incentive because it rewards consumers for doing what they do every day. For more information, please visit ThanksAgain.com.
About Thanks Again:
Thanks Again president/COO Ed Puckhaber has a background in corporate banking, as well as experience in sales and marketing, which guided him and COO Marc Ellis in their development of the company's user-friendly consumer rewards program. Through Thanks Again, consumers can earn credit and debit card rewards on existing accounts and help expand the program by suggesting participating merchants.
###