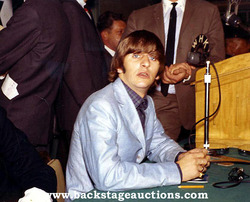 Rock History - Cleveland Style
Houston, TX (PRWEB) August 9, 2007
It is with great excitement that Backstage Auctions announces the "Rock History - Cleveland Style" auction featuring the private collection of legendary rock and roll manager and industry icon David Spero.
David Spero was destined to be a part of rock and roll history since the age of 13. He got his start working on the set of the nationally syndicated television show "Upbeat" which was created and produced in Cleveland during the mid 60s by Herman Spero, David's father. The young Spero did just about any job his dad would allow from holding up cue cards to suggesting ideas that would appeal to kids his own age and even chauffeured the "stars" around town. Spero's on the job training at a very early age helped pave the way for one of the most interesting careers in the rock and roll business.
Mixing it up with the stars always came easy for Spero. Having worked in the music industry for over four decades his talent roster reads like a who's who of rock and roll; managing or working along side Joe Walsh, The Eagles, Harry Nilsson, Ringo Starr's All Starr Band, James Gang, Styx, Survivor, Ian Hunter, Don Felder, Eric Carmen, Michael Stanley, Sam Moore, Dickey Betts, JD Souther and Billy Bob Thornton...just to name a few.
David's collection is a 40 year walk down rock history, with each piece telling a story and chronicling his career in the music industry. The auction will showcase well over 700 lots of amazing memorabilia featuring some of rock and roll's greatest icons. Among the more notable pieces being offered are David's personal photo collections that he personally took of Jimi Hendrix, The Beatles and The Who in the late 60s, a Yellow Submarine press photo signed by John Lennon, a HiWatt concert used speaker cabinet ca. 1969 that once belonged to Pete Townshend - The Who, Joe Walsh tour/studio used guitars and even Harry Nilsson's bathrobe.
Equally exciting, the auction will also feature the Alice Cooper's town Collection that once graced the walls of the recently closed Cleveland location. Some of the most impressive pieces include several of Alice's gold and platinum record awards; a concert used leather jacket (complete with pins, patches and chains), an elaborate collection of posters and photos and much more. The restaurant recently reopened under a different name and theme which resulted in a vault filled with rock and roll memorabilia. It was only natural that we combined the two collections -- for one unbelievable auction event.
The auction will begin on Sunday, September 23rd and will run for one week ending on Sunday, September 30th. The full auction catalog, which will feature over 700 auction lots, will be available online to view beginning Sunday, September 16th at http://www.backstageauctions.com.
Backstage Auction is a leading online auction company committed to offering authentic collectibles directly from the private collections of musicians and entertainment industry professionals. Founded on the principles of combining their clients' career achievements and popularity with the demand and interest of fans who desire truly authentic and unique collectibles, Backstage Auctions is the place where rock legends live on.
For more information on the auction and the items that will be featured please visit http://www.backstageauctions.com.
Contact:
Kelli van Gool
Backstage Auctions, Inc.
713-862-1200
http://www.backstageauctions.com
# # #