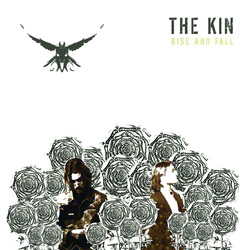 If you listen to the intentions behind the lyrics in this album, our intent is to stir the pot to provoke change and move from a place of feeling down and out to a place of expectation
New York, NY, (PRWEB) August 10, 2007
Compared to the likes of Crowded House, the Cure, U2, and Jeff Buckley, THE KIN, comprised of Australian brothers Isaac and Thorry (pronounced TAR-ee) Koren, are ready to release their new album, Rise and Fall on the brothers' own label, Aletheia Records. Written and performed entirely by the Korens and co-produced by Nic Hard (The Bravery, Jesse Malin, Aberdeen City, The Church), the 14-track CD is set to be released on October 9, 2007.
Rise and Fall's acoustic focus brings the brothers' smooth vocals and Thorry's adept guitar playing into the forefront. All instruments, with the exception of the strings, were performed and recorded by the Korens. Infused with cellos and violins, the songs possess skillfully developed melodies that swell to cathartic choruses and return to satisfying conclusions. Big epic images and dense harmonies drench their sound, and their songs tell quirky human stories that often leave you with a question. The brothers, with no fear of revealing their personal truths, dare to use sentiment that often feels radical, yet sincere.
Rise and Fall brings about a whirlwind of emotions for the powerfully gifted duo who are influenced by Pink Floyd, Fleetwood Mac and Sting. "If you listen to the intentions behind the lyrics in this album, our intent is to stir the pot to provoke change and move from a place of feeling down and out to a place of expectation," says Isaac. "The album is about hope from struggle," adds Thorry. "These are not meant to be flowery love songs."
Originally named The Harlequin, the brothers Koren arrived from Australia in 2001 and have since built a huge US following that continues to grow exponentially. In addition to their roguish good looks and tremendous vocal and songwriting abilities, it's the duo's live shows that leave audiences hungry for more. What Billboard calls "a humbling experience," their vocal harmonies mesmerize the ear supported with captivating rhythmic percussion provided by their drummer "Shakerleg," who plays without the use of sticks. They have performed to packed or sold-out shows at prominent venues including World Café Live (Philadelphia), Hotel Café (LA), Paradise Lounge (Boston), as well as NYC's Pianos, Bowery Ballroom, Joe's Pub, Knitting Factory, Mercury Lounge and Gibson Sound Stage (with the legendary Comets), and have held a 2-month residency at NYC's Rockwood Music Hall.
With the help of Tower Records and their own grass roots marketing, THE KIN have built up a large following, already selling over 15,000 units of their previous releases. Their songs are featured on radio stations such as Q104.3 NY, 104.7 MA, WZBC Boston, WMMR and XM Radio. They've made several notable TV appearances, including FOX's Good Day New York (part of the GD Press Play Concert Series) and Fearless Music TV, Backstage with Barry Nolan on Comcast, and local news programs in Boston (Fox), Philadelphia (ABC), Washington DC (NBC Universal 4), and New York City (CW11). Print credits include Billboard, New York Times, BMI, Time Out New York, YRB, and Foam.
In addition to entertaining audiences, The Kin use their music to raise money for worthy causes such as the Boys and Girls Club and the Save Darfur Coalition, an organization dedicated to ending the genocide currently taking place in the Sudan region. One of their efforts is raising money through a video placed on their website (thekin.com). Through a unique partnership with Revver.com, clicking through and watching the video automatically generates $0.35 toward the Save Darfur effort.
Rise and Fall hits stores October 9, 2007 on Aletheia Records and their single "Blue on Blue" hits Triple-A radio this month (Aug. 2007.) Two songs off this CD, "The One" and "Rise and Fall," will both appear in an episode of Lifetime TV's series Army Wives, to air on Sunday, August 19th at 10pm ET/PT (encore on Monday, August 20th at 8pm.) For tour dates and updated information, visit http://www.myspace.com/thekin or check out http://www.thekin.com.
###