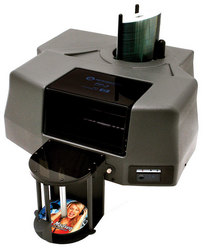 We continue to innovate around the needs of our core set of customers
Chanhassen, MN (PRWEB) August 13, 2007
Boasting advanced HP Inkjet Technology, the new CX-1 Disc Publisher and PF-3 Print Factory from Microboards have been designed with in-house disc production in mind. Organizations that depend on Microboards products for distributing their content will welcome the strong recording and printing specs and affordable price point. Even recreational users will hail the advances in the Microboards line as a breath of fresh air for the duplication industry.
The desktop design supports a 100-disc capacity, the highest (4800 dpi) print resolutions, and continues Microboards tradition of low ink cost. Built into the compact chassis is an enhanced robotics system that ensures reliable disc loading.
The PF-3 is a print-only device that connects to a PC via USB 2.0, and offers high-speed printing of CD, DVD, and Blu-ray discs. The CX-1 combines all of the features of the PF-3 printer with a high-speed DVD/CD recorder and software suite for creating print & record jobs. Both come with intuitive label-design software.
Users will also find new software features that improve the duplication experience, including low ink warning to prevent disc waste, basic auto label calibration for speeding up out-of-box setup, and a host of other engineering improvements to the printing and recording software, all designed for robust use in the mid-volume market. "We continue to innovate around the needs of our core set of customers", said John Westrum, Microboards' Chief Technology Officer. "We are very conscious of the needs of the church, school, boardroom, video post house, and service bureau."
The offering represents the latest in a flurry of new products based around HP Thermal Inkjet technology. "Our intention is to marry the latest and greatest in HP technology with our disc production equipment, so we reach the needs of an even broader set of users", says Westrum. "So you can expect more exciting product announcements before 2007 is even over."
The units will ship by the end of August, from Microboards headquarters in Chanhassen, Minnesota. They will be available through Microboards' channel of value-added resellers. Both come with a 1-year warranty. The PF-3's street price will be around $1895, and the CX-1's street price will be around $2,095.
More information is available at http://www.microboards.com.
About Microboards
Microboards ignited the industrial disc duplication revolution in the 1990s with the CopyWriter Tower and continued its tradition of leadership with the first DVD Duplicators and other award-winning products. Today, Microboards continues to lead the industry in innovation with its award-winning automated publishers and industrial disc printers.
###