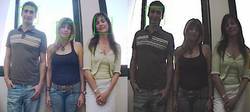 At TruMedia our goal is not only to answer our customers' needs, but to anticipate them.
(PRWEB) August 13, 2007
Tel-Aviv, Israel TruMedia Technologies (http://www.tru-media.com), the leading provider of real-time audience measurement systems, announced the release of iCapture Ultra: a Wide Dynamic Range camera designed to operate in harsh lighting conditions.
"As part of our continuing endeavor to offer cutting edge audience measurement solutions, we have further developed iCapture," said Oded Har-Tal, VP R&D at TruMedia. "At TruMedia our goal is not only to answer our customers' needs, but to anticipate them."
TruMedia's iCapture Ultra Cam comprises new wide dynamic range (WDR) cameras which produce detailed audience images even in harsh lighting conditions. iCapture Ultra Cam sets its own exposure ratio for each picture element, capturing detail in shadows and managing bright glare and reflections.
TruMedia's iCapture solution generates true, real-time viewing data for digital displays by analyzing face images of people watching the displays. TruMedia's proprietary, video analytics technology automatically detects and tracks faces captured by high-resolution, WDR or mega pixel cameras. With wide-angle lenses, iCapture can capture unlimited number of viewers across the entire range of the screen viewing angles. Viewers' face images are further analyzed in real-time to yield business-critical information such as true "face towards" counts, individual exposure times and indicators for attention or level-of-interest. Proactive merchandising is also made possible using TruMedia's PROM, an Application Programming Interface (API). iCapture analyzes audiences in real-time, recognizing pre-defined image attributes. PROM then notifies the content management system and acts to select and adapt content to audience or non-biometric attributes.
TruMedia is fully respectful of the audience's privacy: no images are ever recorded, and no uniquely identifiable data is extracted.
iCapture will be on demonstration at OAAA Star Showcase (stand no. 115 & 116), Exhibition Hall 1A, Jacob K. Javits Convention Center in New York on 26th September, 2007.
About TruMedia (http://www.tru-media.com)
TruMedia Technologies Inc is the leading provider of real-time audience measurement solutions. TruMedia's advanced automated imaging systems deliver accurate viewing measurements for out-of-home advertising on posters, digital signs, TV monitors, display windows and in-store product displays.
Addressing the digital signage, in-store advertising and out-of-home TV markets, as well as product display in windows and point of purchase locations, TruMedia builds upon proprietary video analytics technology developed during the past six years within the homeland security industry, to detect and track viewers' faces in order to measure true visual exposure to media and merchandize. Combined with our vast know-how in the field of intelligent cameras and embedded video processing, TruMedia is poised to lead this new field of applications.
# # #