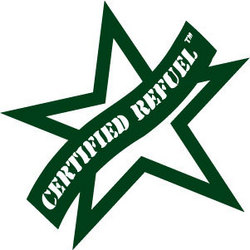 I can't imagine any petroleum company or their consumer who wouldn't be willing to pay a fraction of a cent per fill-up to have the assurance of knowing they are supporting the Nation's renewable fuel efforts
Taos, NM (PRWEB) August 15, 2007
The American motorist will soon have independent confirmation that they are buying their gasoline from petroleum companies who use renewable fuels such as ethanol and bio-diesel. Certified Refuel™ is a new designation that will be seen across America as the latest environmental regulation, called the Renewable Fuel Standard (RFS), is set to begin on September 1, 2007.
Through the RINSTAR™ renewable fuel registry, producers, marketers, and gasoline refiners are all able to register their products. Registration begins at the point the ethanol or other bio-fuel is manufactured and then tracked on the independent registry all the way through the supply chain. Conformity with the standard is then verified at each step.
The RFS regulation mandates a certain percentage, 4.02% in 2007, of the nation's gasoline supply be renewable fuel - ramping up to 7.5 billion gallons per year by 2012, with congress currently debating legislation that would take the total over 35 billion gallons in the foreseeable future. To enforce this requirement, EPA developed a unique 38-digit identifier, termed the Renewable Identification Number (RIN), which is assigned to virtually every gallon of renewable fuel produced and consumed. The RINSTAR™ registry provides an independent platform for RIN generation, tracking, and validation.
"What was intended to be a program for environmental compliance purposes has now presented a golden opportunity for environmentally conscious companies and the consumers of their products. The customer will soon be able to see at a glance where their gasoline supplier stands on renewable fuels", said Clayton McMartin, president Clean Fuels Clearinghouse. Cost for the Certified Refuel™ process amounts to less than 1 cent per 20 gallon tank full of gasoline. "I can't imagine any petroleum company or their consumer who wouldn't be willing to pay a fraction of a cent per fill-up to have the assurance of knowing they are supporting the Nation's renewable fuel efforts", said Jim Rausch, Arlington, TX motorist.
For additional information about the Certified Refuel™ program, or the RINSTAR™ renewable fuel registry, go to the web at http://www.CertifiedRefuel.com.
The Clean Fuels Clearinghouse is an independent company providing environmental compliance services to the ethanol, bio-fuel, and petroleum industries. The Clean Fuels Clearinghouse is not associated with Underwriters Laboratories, Inc.
###