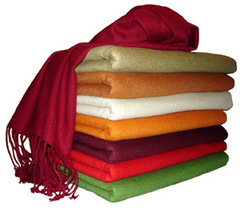 It's exciting that over 5,000 people entered the Woman's World Magazine contest
Humble, TX (PRWEB) August 15, 2007
In the June 26th issue of Woman's World Magazine, The Pashmina Store, the Texas online retailer, sponsored a chance to win one of four $250 shopping sprees. More than five thousand people entered the contest. The winners, selected at random, are from Florida, Pennsylvania, Kansas and South Carolina.
"It's exciting that over 5,000 people entered the Woman's World Magazine contest," said Blair Rhodes, CEO of The Pashmina Store. "The four winners are very happy, of course, and many said they plan to use their shopping spree for holiday and Christmas gifts."
Even though in much of the country it's a scorching 90-to-100 degrees-plus outside, many people sit in an office all day freezing from the air conditioning. Many also go to the shopping mall, the movies, a restaurant, or fly on an airplane and need something to wrap around shoulders to keep the frigid AC at bay. Instead of carrying around that clunky and unfashionable old sweater mom bought for your birthday years ago, why not wrap yourself in a fashionable pashmina shawl from The Pashmina Store?
The Pashmina Store offers a variety of solid colors (from pink to green), animal prints and four different weights, two-ply, three-ply, ring style and a silk blend. If allergies are a problem, try the silk blend. The addition of silk also brings a nice sheen to the pashmina shawl, wrap, or scarf. All of the pashmina silk blends are two-ply to ensure you a high-quality accessory that is luxurious and warm while still being light-weight.
The Pashmina Store also has a gift certificate option, just in case the gift giver finds the task of choosing from more than 40 colors too overwhelming.
About The Pashmina Store
The Pashmina Store website, located at http://www.ThePashminaStore.com, was developed by Blair Rhodes with the idea of going direct to the consumer through the website to keep prices low and reach as wide an audience as possible. In early 2000, his family visited Nepal, and developed a great appreciation for pashminas. Seeing firsthand the care and tradition that goes into the making of pashmina goods, they developed a desire to share them with as many people as possible. Blair's mother, Charlene, started out doing Avon-style "pashmina parties." The Pashmina Store offers affordable prices on top quality pashmina and cashmere goods and free shipping.
Media contact:
Sue Hecht,
The Winning Pitch
702-225-8206
###