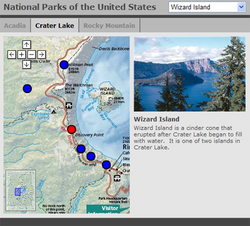 The simplicity of creating interactive maps using MapsAlive belies just how powerful a tool it is. MapsAlive lets users quickly upload photos, add markers to maps and view their tours on the web instantly
Waitsfield, VT (PRWEB) August 21, 2007
AvantLogic Corporation announces a new release of MapsAlive -- the simple to use web-based application that turns ordinary images into interactive maps. Now a wide variety of industries such as real estate, cartography, online media, travel, and hospitality can use MapsAlive to add rich and engaging interactive content to their websites.
Just about anyone can use MapsAlive. Online publications can use it to create interactive maps, and diagrams that enhance news features, travel stories, real estate articles, and many other stories. Travel companies can add interactive maps to their websites that allow visitors to see actual photos and descriptions of tour itineraries, accommodations, and attractions. Real estate companies can use interactive floor plans, site maps and locator maps to keep prospective customers actively engaged and focused on their listings.
The new MapZoom feature lets users zoom in and out of large images such as floor plans, diagrams, and geographic maps to view more detail. Another new feature is the Tour Advisor that displays suggestions for completing or improving tours. Smarter automatic layouts for displaying photos and text and a simplified user interface have also been added.
"The simplicity of creating interactive maps using MapsAlive belies just how powerful a tool it is. MapsAlive lets users quickly upload photos, add markers to maps and view their tours on the web instantly," according to Tom Clark, Director of Sales and Marketing. "MapsAlive is all about the ability to interactively display a lot of information in a way that engages the viewer."
With MapsAlive, any image can be interactive -- geographic maps, photographs, charts, floor plans, and drawings. Viewers mouse over markers on map images to display photos and text descriptions associated with locations on the map. Interactive maps display a lot of information on a single web page without clicking or opening new browser windows. MapsAlive provides innovative functionality without the need for expensive programming. Non-technical people and web developers alike can easily create tours.
Resort Maps in Waitsfield, Vermont has adopted MapsAlive to make their online maps interactive. Resort Maps creates printed stylized maps with display advertising for use in tourist areas and they needed a better way to display their large maps on the web.
"With MapsAlive we can make our online maps as fun to use as our printed maps. Now viewers can mouse over map locations to view business ads and zoom in to see more detail", says Peter Hans, owner and president of Resort Maps. "Visitors to our site can easily find our advertisers and we can now offer expanded online advertising options."
A new how-to video shows just how simple it is to create an interactive tour and introduces many of the features in MapsAlive.
Affordable Technology
It's easy and inexpensive to create a MapsAlive interactive tour. Pricing starts at $5/month. There is a 30-day free trial for new customers to create and go live with their MapsAlive tours.
About AvantLogic
AvantLogic was started in 1999 as a software consulting company by co-founders Janice Kenyon and George Soules. They developed MapsAlive as a solution that makes interactive functionality widely available and affordable. Kenyon and Soules have over 50 years of combined experience in software development.
Contact:
Tom Clark
Sales and Marketing Director
MapsAlive.com
(802) 999-6369
http://www.mapsalive.com
###