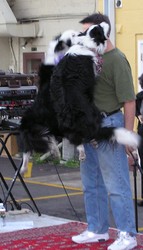 a small town in the City
Minneapolis, MN (PRWEB) August 21, 2007
The Linden Hills Business Association announced today it will host the third annual day for dog lovers called Woofstock on Saturday, September 15, 2007 in the Linden Hills business district in Southwest Minneapolis.
The event, being presented by Solid Gold health food for pets, includes activities such as shopping at the neighborhood's many dog-friendly establishments, live music, a visit from the Fairy Dog Mother, a pet parade, pet-centric exhibitors, dog-friendly scavenger hunt and the renowned dog tricks contest. All activities are free.
The event first began in 2005 with an attendance of 150 people from all over the Twin Cities. This year more than 700 people are expected to gather on the streets of historic Linden Hills to celebrate all things dog.
"We are thrilled to be carrying on the tradition of this event," said Linden Hills Business Association President, Mark Dwyer. "There is a decidedly dog-friendly spirit to our community and we fully embrace the way dogs add character to our neighborhood and to ourselves. We're happy to have a day to celebrate it," said Dwyer.
Linden Hills Woofstock runs from 11:00 a.m. to 4:00 p.m. and is free to attend. Interested parties can register in advance for the pet parade and dog tricks contest online as well as on site the day of the event. The event will take place rain or shine and all attendees are asked to bring only dogs who can tolerate, and interact well with, large crowds, noises, kids and the hustle and bustle of activity.
For more information on Linden Hills Woofstock, visit http://www.lindenhillswoofstock.net or call 612.929.8000.
What: Linden Hills Woofstock 2007. A day of leash, love and celebration for dogs and their people. Pet parade, scavenger hunt, live music, dog-friendly shopping, dog tricks contest and more!
When: Sat., Sept. 15, 2007, 11AM-4PM
Where: 43rd St. and Upton Ave. S., Minneapolis, MN 55410
Weather Policy: Event will take place rain or shine.
About Linden Hills
Nestled between the South shores of Lake Calhoun and the West side of Lake Harriet in Southwest Minneapolis is Linden Hills --- an historic neighborhood that represents the ideal in urban living. Interesting boutique shops, unique restaurants and a variety of parks, playgrounds and picnic areas make up this vibrant, walkable community that is alive with culture and creativity.
Often referred to as "a small town in the City," the area offers something for all members of the family, including our furry best friends. Dog lovers and their companions are most welcome here and both will enjoy our dog-friendly shops and the many welcoming areas where they can sit, stay and savor treats and sights they'll both enjoy.
Website: http://www.linden-hills.com
###