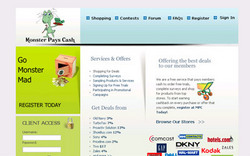 These promotions are our way of thanking the customers for using our links.
Tucson, AZ (PRWEB) August 21, 2007
Some people love to shop. Others shop by necessity. Regardless of a shopper's motivation, they can now shop with more benefits by joining the free shopping and research incentive-based programs at MonsterPaysCash.com This market research company now provides its members with an impressive array of incentive programs from their affiliates - which include industry giants like Apple, Dell, Macy's and Wal-Mart. MonsterPaysCash.com supplies members with the opportunities to shop at major retailers for rebates, chances to win prizes and the option of trying new products - all with no obligation or commitment.
MonsterPaysCash.com membership to join is 100% free - no signup costs or hidden fees. Not only does MonsterPaysCash.com offer their clients the ability to get paid to shop and take surveys, but they also have some of the highest cashback rates in the industry and have the highest reward for trying products and services from respected companies like Blockbuster or Netflix.
President, Fahd Albinali, of MonsterPaysCash.com explains, "Online shoppers deserve cashback on every dollar they spend. Our services are specifically designed to help shoppers earn extra money. This is an advantage to both the consumer and the advertiser. The consumer is able to earn freebies, samples, and money and the advertiser is able to reach a broader consumer base while promoting and selling their products."
MonsterPaysCash.com believes that there is more to taking free paid online surveys or sampling products. Members are able to receive excellent shopping deals and rebates and are encouraged to try free products with no obligation.
In addition, by simply using their services or links, MonsterPaysCash.com offers members regular promotions to win prizes like laptops, iPods, phones, and other items. Albinali explains, "These promotions are our way of thanking the customers for using our links."
While issuing payments totaling over $30,000 in the past month, Marketing Director, Sara Heche, reinforces the company's beliefs by stating, "Consumers should get paid to shop and take surveys. By getting paid to take surveys, read emails, shop, and surf online, the consumer is in control. It is a way for the consumer to give feedback to the manufactures and other product or service distributors, while getting compensated for their valuable input at the same time."
The ability to get paid to shop and take surveys is easily accessible at MonsterPaysCash.com. For more information on these free paid online surveys or to start earning cashback and rebates from retailers like Disney, Mikasa, NBC, Priceline, Hotwire, and more, please visit MonsterPaysCash.com.
About MonsterPaysCash.com:
MonsterPaysCash.com, a subsidiary of Banbona LLC, is 100% free membership service, is a marketing research company that pays members cash incentives to shop at stores, sample products, or complete surveys.
###