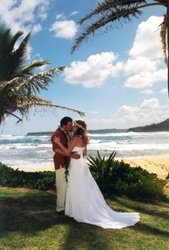 A highly-rated resort, which is great for families, young children and teenagers, may not be a good choice for most couples seeking a romantic honeymoon environment.
Corona, CA (PRWEB) August 27, 2007
A honeymoon is a very special time. The Honeymooner's Review Guide reports that disappointment on honeymoons is often due to not choosing the right resort. Were those rated low inferior resorts? No, nearly 85% of the hotels that couples rated as the worst honeymoon hotels were rated by other couples as "good" or better. Nearly 50% were rated "very good", and 12% were rated "Excellent". Top Hotel Chains such as Starwood Hotels and Resorts, Sandals and Couples, Hyatt Hotels, Iberostar, Dreams, Beaches, Westin Hotels, Four Seasons, and others are included. All have excellent resorts! So, what's going on? Why such low scores?
Although highly recommended on other websites, many of these hotels did not score high for honeymoon vacations or romance. Ron Haller, Chief Editor and VP Research says, "A highly-rated resort, which is great for families, young children and teenagers, may not be a good choice for most couples seeking a romantic honeymoon environment." Low scores in major resorts reflect that couples sometimes choose their resorts based upon general ratings rather than picking that perfect romantic honeymoon.
Those dissatisfied with major hotel chains, which cater to honeymoon couples, had specific complaints. Couples arrived to find that the rooms that they booked were unavailable, overbooked, with a long delay and hassle. A few had nice rooms but with two double beds, instead of the requested king size. Often complaints were not addressed satisfactorily and resort staff were unsympathetic and even rude. The study found that both highest and lowest of troubled reviews were in the same hotel chains. The lowest scoring had guest relations issues rather than issues of poor property maintenance or cleanliness. Another common theme was related to perceived value. Of disenchanted honeymoon couples, nearly half (47%) considered their stay overpriced and of poor value. Resorts otherwise viewed and rated as good to exceptional were seen as negative due to unfulfilled expectations.
Poorly scoring hotels ranged in price, size and chain affiliation. Many are well known chains, some all-inclusive, and others targeted destination weddings and honeymoons. For the lowest scoring reviews, these top four categories accounted for 95% of complaints:
Room Related Complaints- 35%
Poor Service, Unfriendly & Rude Staff- 33%
Property Poorly Maintained and/or not like photos - 16%
Cleanliness and Health Issues - 11%
Other top common complaints are that the resorts lacked amenities, activities, and entertainment. Food complaints are frequent as well although often also mentioned in resort ratings in general.
The message to resort management is guest relations is paramount. For couples, do your homework. After choosing a destination and several potential resorts, check them out, talk to your travel agent or a honeymoon specialist; use the Internet to obtain information and reviews, not just on one website, but on many. Visit forums, check out blogs, read reviews, and be sure the resort meets your personal tastes and preferences. If you do not want young children and teenagers, be sure that your resort does not cater to them. If a pristine beach is all-important, be sure to check out the resort's beach, or you may end up with a rocky, yet beautiful setting. Is good cuisine of paramount importance? Be sure that if you are considering an all-inclusive, it warrants your taste buds.
A sampling of true-life honeymoon disasters can be read on the site, as well as how to avoid honeymoon disasters.
Since couples get only one chance at a romantic honeymoon, research, research, & more research is the website's mantra. With a database of over 3000 resorts, ranging in price and amenities, that passionately romantic honeymoon for couples with different needs and finances is possible. The website also tries to select only those honeymoon resorts that are of good value and frequently drops those which returning couples indicate are not. Top resorts are eligible for its "Choice Awards" program.
Returning newlywed couples are welcome and encouraged to post their reviews and rate their hotels to help other couples planning their destination weddings and honeymoons.
The above statistics are taken from the continuous surveying of honeymoon couples performed by Honeymooner's Review Guide. The great majority of respondents were from the USA and others from Canada, Europe, Australia, India, New Zealand, Singapore, and South Africa. Information on the company is available on its website.
Media Contact:
Ron Haller, Chief Editor
ron @ honeymoonersreviewguide.com
951-277-9853
###