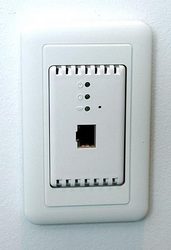 Designed for leisure/ hospitality, educational, health care, and residential markets, the HD24613 In/Wall access point has found its way into real estate offices, yachts, RV's just to name a few and will soon be approved on commercial aircraft
Ronkonkoma, NY (PRWEB) August 22, 2007
HD Communications Corp., a company with expertise in wireless communications dating back to 1976, has been nominated for the 2008 Consumer Electronics Associations Mark of Excellence Award for the top wireless product for its In/Wall wireless wifi 802.11B/G access point. "We are extremely excited to receive the nomination and pleased that the industry understands the benefits that our product brings to the wireless Internet and consumer electronics industries." Said Don Davis President CEO of HD Communications Corp.
The HD24613 In/wall's uniqueness is that it installs in the wall as you would a light switch. "the HD24613 access point allows the user to install wireless where they need it because it is a discrete install product and that the days of the blue wireless router sitting on a shelf with wires hanging out of it are limited" stated Davis
"Designed for leisure/ hospitality, educational, health care, and residential markets, the HD24613 In/Wall access point has found its way into real estate offices, yachts, RV's just to name a few and will soon be approved on commercial aircraft" said Davis.
The HD24613 is also ideal for institutions that are already wired for CAT5 and now need both a wired connection as well as a wireless solution in each room. "The HD24613 has an RJ-45 connector on the front of the unit so a user will not lose their wired connection while obtaining a wireless connection in each room," Davis stated.
For lthe hospitality market a power over ethernet switch is available to support up to 24 in-wall access points. " The high end and boutique hotels have already installed our In/ Wall and we are in early negotiations with several leading hotel chains" said Davis
Each year the CEA reviews products in selected categories and nominates four finalist in each category. The coveted Mark Of Excellence Awards will be presented during the EHX Expo in Orlando, Fl on March 14, 2008.
About HD Communications Corp.
HD Communications Corp. is a leading provider of Wireless Network Products, Components and Systems for the wireless network (Wi-Fi), RF and microwave industries. It was established in 1991 by its founders after 15 years of employment experience working with two leading wireless companies: American Technical Ceramics, an AVX company and MA/COM, a Tyco Electronics company. The customer base of HD Communications Corp .now includes major electronic companies, OEMs, wireless Internet service providers (WISP) and re-sellers in over 50 states and 47 countries. HD Communications Corp serves the educational, military, health-care, consumer, re-seller and Original Equipment Manufacturer markets with its broad reach of products and services.
Individuals interested in HD Communications Corp. can find further information by visiting the company's corporate website at http://www.hdcom.com
HD Communications Corp.
Contact: Don Davis
Tel: 1 888 588-3800
dond @ hdcom.com
###