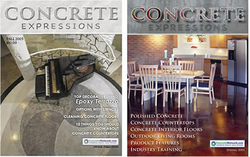 Yucaipa, CA (PRWEB) August 24, 2007
With Summer coming to an end, it's time to gear up for a season of entertaining indoors, and that means starting on those pesky remodels you've been planning. Those interested in remodeling with decorative concrete now have access to The Concrete Network's Spring and Fall publications of Concrete Expressions in digital format. The publication, distributed in print-format twice per year to subscribers in the United States and Canada, can now be accessed by consumers worldwide, free of charge. With no software to download, the issue can be viewed online at http://www.concreteexpressionsmag.com/digital.
Each issue offers over 75 pages featuring today's top trends and innovations in decorative concrete, and provides a comprehensive look at designing with decorative concrete, project highlights, contractor profiles, the latest in advances in decorative applications, outdoor living, and much more.
With concrete, often times, seeing is believing, and for that reason each issue is jam-packed with full-color photo galleries exhibiting the popular trends for decorative concrete applications including various stamp patterns, color options, acid-stain techniques, architectural alternatives using concrete and more. Photos are submitted by contractors throughout the United States and Canada.
Concrete Expressions is the official publication of The Concrete Network.
Established in 1999, The Concrete Network's purpose is to educate consumers, builders, and contractors on popular decorative techniques and applications. These include stamped concrete, stained concrete floors, concrete countertops, polished concrete, and much more. In July 2007 The Concrete Network Website had over 1.3 million visitors researching decorative concrete.
The site excels at connecting buyers with local contractors in their area through its Find-A-Contractor service. The service provides visitors with a list of decorative concrete contractors throughout the U.S. and Canada, and is fully searchable by 23 types of decorative concrete work and 200 regional areas throughout North America.
###