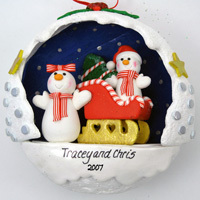 Santa Rosa, CA (PRWEB) August 27, 2007
Calliope Designs is thrilled to be offering a new line of personalized Snowball Scene Christmas ornaments exclusively on their website, http://www.calliopedesigns.com .
Designed by Calliope's lead designer, Dorr Eddy, the originator of personalized ornaments since 1972, these clay dough three dimensional globes offer a new handmade ornament for Christmas 2007. Priced between $19.99 and $25.99, these Christmas ornaments are highly collectible and a wonderful original holiday keepsake or gift.
Calliope Designs has been a designer, manufacturer and importer of personalized holiday ornaments seen at Gump's, San Francisco to Fortunoff of Westbury in New York, as well as at many gift shops and department stores, kiosks, and websites across the United States. With original designs ranging from traditional Santa Claus motifs to Penguins, Snowmen, and Teddy Bears, these new Snowball Scene Christmas Ornaments mark an exciting new addition to their product line and the website.
"Within each Snowball Scene ornament is a special Christmas story. We offer everything from the Night Before Christmas Snowball Scene to the Holy Family Nativity Snowball Scene. You'll find Snowball Scene globes that commemorate the family our Christmas tree shopping in a festive winter sleigh, a rocking horse personalized ornament marking Baby's First Christmas, and even a Christmas Snowball Scene wedding ornament with a bride and groom for Our First Christmas," said Owner and President, Stephanie Eddy.
"We wanted to offer a truly original concept in claydough. Each style is expressly created to become a personalized ornament, and each ornament will be dated with the year to increase its collectivity," she added.
These unique Snowball Scene Christmas ornaments can also be used in various holiday displays in the home. They are designed to hang on a tree or sit on a mantle or holiday table because they have a slightly flattened base. These ornaments can be used as pieces in a lovely holiday centerpiece, as party favors sitting at each guest's table setting, or as a hostess or housewarming gift.
"We're also excited about these Snowball Scene ornaments because our wedding theme ornaments are often used as holiday wedding favors, as gifts to the bridal party, or as part of a wedding or shower centerpiece! Our goals at Calliope Designs are always to provide a wide selection of holiday ornaments to our customers and these exclusive, fabulous, and versatile Snowball Scene Christmas ornaments will be another wonderful addition to our site and catalog."
Calliope Designs has also added over 75 other new clay dough Christmas ornaments to be personalized for Christmas 2007. As well as new Penguin and Snowman groupings, there are all kinds of new themes including Irish ornaments featuring shamrocks and Celtic crosses, fresh New York ornaments, new Las Vegas ornaments and New Orleans ornaments!
About Calliope Designs
When Dorr and Stephanie Eddy began making bread dough ornaments in their kitchen in 1972 they had no idea how popular their handmade Christmas tree decorations would become. Today, after more than 35 years of distributing their Christmas tree ornaments through fine retailers and major department stores nationwide, their whimsical little clay dough ornaments are treasured by children and grownups all over the world.
Each Calliope dough and claydough ornament is an original creation designed by Dorr Eddy. The unique character of each personalized Christmas ornament adds to the style of a completely handmade product. The bright colors and high gloss coating add to the ornament's attractiveness and durability. The special techniques and the tools we have created greatly enhance our consistent quality.
Every design can be personalized to order creating a unique and treasured gift.
###