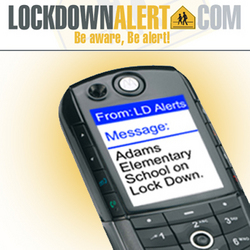 Even though it's free, we really feel like this is a valuable new service for parents
Tampa, FL (PRWEB) August 24, 2007
In addition to free text messages on cell phones to alert parents when there is an event at their child's school, LockdownAlert.com also now provides a search-able website of lockdowns. It is the only database of its kind and offers parents and teachers a unique way to look at the public high schools, middle and elementary schools in their area and across the country via the Internet.
Among the mundane causes, like bomb threats, fights and police activity, there are many disturbing lockdowns caused by dead bodies, suicide, abductions, real bombs, chemical spills, violence and so on. And then, there are the lockdowns initiated by circumstances that can only be described as bizarre.
LockdownAlert.com has put together a special list of the most unusual lockdown reasons. On that list you'll find a squirrel that terrorized three students, a kid with a baseball bat that turned out to be a baseball player on his way to baseball practice, a topless woman with a gun, a reported sighting of Batman and killer bees. There's even a school that went on lockdown for no known reason. The details, and a much longer list, can be found at http://www.lockdownalert.com.
Lockdown Alert is supported solely through ads on the website. "Even though it's free, we really feel like this is a valuable new service for parents," says Glen Wheeler of Lockdown Alert. "Now they can check out the schools in an area before they decide where to move. Besides, looking through all of the lockdowns is a real eye opening experience," he added.
So, as your child heads back to school this year, you may want to take a moment and search the database to see the lockdown history for their school. While you're there, don't forget to sign up for the free text alert service so the next time a mountain lion wanders onto the campus, you'll be the first to know.
###