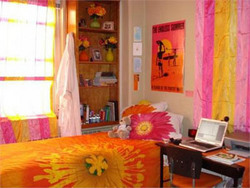 a lot of things change in life, except the size of a dorm room.
Knoxville, TN (PRWEB) August 27, 2007
A dorm room's design can be tricky, but it can also make the difference between "home sweet home" and "I want to go home!" College students can find creative ways to trick out their dorm room, or show off their dorm room design ideas, through HGTV.com's Rate My Space and the new online Dorm Room wing. At the popular social media hub, college students (or their friends and family) are able to upload photos and videos of dorm rooms' cool design or as a cry for help.
The HGTV.com Rate My Space community encourages rating, feedback and sharing design ideas or asking design advice. The new Rate My Space- Dorm Room feature is accessible at http://www.HGTV.com/dormroom.
One HGTV.com Rate My Space - Dorm Room user shares her room explaining, "This is my freshman year at college. I was so excited to go in this room and design it from scratch. My inspiration for the Paris theme was the $12 poster I found." Another user posted a decidedly un-dorm Pink Palace themed room. One HGTV.com Rate My Space - Dorm Room comment reflects why dorm room design presents such a universal challenge; the posting says "a lot of things change in life, except the size of a dorm room."
HGTV.com's Rate My Space presents an easy-to-use hub for those who share a flair for decorating and who would like to show off their spaces, as well as for those who have the desire for design, but may need some help pulling it together. The easy upload process lets users submit photos and videos, along with thoughts on the existing decor or requests for "design intervention" from the community.
Rate My Space is among the most-visited areas on HGTV.com, the leading home and garden destination on the Web. HGTV.com's Rate My Space hosts more than 13,000 user-generated spaces in categories including Bedrooms, Bathrooms, Kitchens, Patios and now Dorm Rooms. HGTV.com's Rate My Space has scored nearly 50 million page views since its launch in February.
About Scripps Networks Interactive:
The award-winning, category-leading Web sites created and supported by Scripps Networks Interactive attracted an average of more than 15 million unique visitors per month in 2006. The Scripps Networks Interactive properties -- Web sites HGTV.com, FoodNetwork.com, DIYnetwork.com, FineLiving.com, GACTV.com, Recipezaar.com along with broadband channels HGTV Pro, HGTV KitchenDesign, HGTV BathDesign, HGTV Simply Quilts, DIY Automotive, DIY Crafts, DIY Gardening, DIY Home Improvement, DIY Tools, DIY Woodworking and GAC Still Rollin' -- are not only extensions of Scripps Networks leading lifestyle brands, providing users programming information and additional instructional content, but also exciting destinations for original content, engaging video and powerful interactive tools.
###