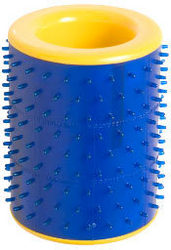 While every hair loss product on the market today attempts to increase blood flow to the scalp, such as Rogaine, Avacore, ScalpMed, Minoxidil, vibrating hairbrushes and laser combs, Mag-Gro is proven to increase blood flow better, faster and for far less money
White Plains, NY (PRWEB) August 29, 2007
Mag-Gro, an innovative, easy-to-use massaging roller with focused magnetic field is offering men AND women an affordable, all-natural solution to hair loss and graying. GetNewHairNow.com
"While every hair loss product on the market today attempts to increase blood flow to the scalp, such as Rogaine, Avacore, ScalpMed, Minoxidil, vibrating hairbrushes and laser combs, Mag-Gro is proven to increase blood flow better, faster and for far less money," says D.C. Johnson, Mag-Gro's creator and founder of Roll Your Scalp, LLC.
It's a fact, ninety-five percent of baldness is caused by decreased blood flow to the scalp. "When used as directed as part of a daily health maintenance routine, Mag-Gro will produce a real and measurable improvement in your hair and scalp within three months or your money back, no questions asked," adds Johnson.
Harvard scientists have discovered gray hair is caused when melanocyte cells within the hair follicle become misaligned. Read Article "The gentle pressure produced by Mag-Gro's rolling action restores these cells to their original position. This in turn begins to put color back into gray hair," Johnson explained.
You simply roll the massaging Mag-Gro roller over the scalp once or twice per day for about a minute to increase blood flow… with no chemicals, hormones or additives.
Amazing results are measured in 1) the decrease and stoppage of hair loss, 2) new hair growth in bald and thinning areas, 3) increased hair color, and 4) increased softness and shine.
According to Johnson, "All-natural Mag-Gro stops the normal degradation of hair, helps hair re-grow and effectively reduces gray… all for far less than costly chemical, hormonal or herbal treatments, surgical options and electronic stimulation."
"This one-time $39.95 Mag-Gro purchase will last for years! So, it's clear, Mag-Gro is a must have," says Johnson.
For more information, visit GetNewHairNow.com. Or, contact D.C. Johnson at 1-877-Roll-Scalp.
(1-877 765-5722)
###