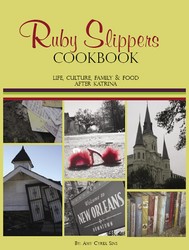 I wanted to give the people of New Orleans hope and share that newfound hope with others
New Orleans, LA (PRWEB) August 29, 2007
New Orleans, Louisiana (PRWEB) August 29, 2007 -- Anyone interested in post-Katrina rebuilding efforts in the Big Easy will want to visit the all new site, http://www.rubyslippersnola.com, designed to celebrate the strength, courage and hopes of the great city's people. Anyone interested in fine southern, Creole and Cajun cooking experiences will also want to visit the site time and time again. Just like the cookbook on which the site was based, http://www.rubyslippersnola.com is full of personal stories of triumph, traditional New Orleans recipes passed down from generation to generation, a blog that allows Katrina survivors and others to stay in touch and share stories and recipes, an impressive monthly newsletter that offers a post-Katrina look at New Orleans, information unmatched by any other food-based newsletter, and much more.
Possibly one of the best-feeling sites to capture the true flavor and passion of the Louisiana and New Orleans lifestyle on the Internet today, http://www.rubyslipprersnola.com even offers visitors a way to pitch in and lend a helping hand in the rebuilding efforts through an affiliation with a solid charitable organization that was thoroughly reviewed and handpicked by Ruby Slippers Cookbook author Amy Cyrex Sins. When asked why it was so important to write the book, which is far more than just a cookbook, she said "Donating to the Coalition to Restore Coastal Louisiana is a way that I can give back to a city and state I love dearly."
"I wanted to give the people of New Orleans hope and share that newfound hope with others," Sins explains. "The site and Ruby Slippers Cookbook is also a way for me to rebuild my life through new friendships, the strength of fellow citizens and recipes that mark our lives. I lost all of my cherished family recipes when my home flooded, and I was devastated. I had to do something to help the city, to help others and to maintain my sanity! Creating the cookbook was a way to do that. While I included plenty of wonderful family recipes readers will want to try and pass on to others, the book is also a celebration of life, culture, family and food from the viewpoint of those of us who have lost something as a result of Hurricane Katrina and the flooding that followed. The photography is amazing; the stories are touching, and the recipes were collected from the people as a means of healing. Some of the recipes were shared with me incomplete or with only directions by taste. I had to fill in the blanks based on my cooking experience and the feedback of my many tasters. I love to cook, just as many of the people of Louisiana. Cooking good food is just a normal part of life for us! I'm happy to say the book is a success; I receive letters of appreciation every day. I'm hoping the site will bring joy, too. I encourage visitors to sign up for the free monthly newsletter, so they can add to their recipe collections."
Showcasing Ruby Slippers Cookbook, the revamped site takes us on a magical journey through beautifully captured imagery, imaginative writing, memorable recipes and more. To kick off the re-launch, Sins is waiving the cost of the book for the first TEN visitors who sign up to buy it online! (This is a $35 value.) Plus, she will ship it to them at no cost.
The first 10 people who visit http://www.RubySlippersnola.com and complete
the book order form will receive one FREE copy of Ruby Slippers Cookbook, signed by author Amy Cyrex Sins along with a personal note of thanks!
Site visitors can read excerpts from the book and order as many copies of Ruby Slippers Cookbook as they want. The book is also available at many fine retailers, the growing list of which is posted on the site. What a great gift for the holidays to those who enjoy cooking, inspirational photography and stories made to lift the spirit!
Hardbound and colorful, this beautifully designed book will last for years to come. A perfect heirloom and coffee table book, it's a gift that keeps giving and can be passed from generation to generation. And if you like Sins ever need to evacuate, anything you need to cook a great New Orleans meal can easily go with you! For more information, visit http://www.rubyslippersnola.com or contact Amy Cyrex Sins at 504-616-4089.
About Ruby Slippers Cookbook - In 2006, the Gourmand Award Winning cookbook was honored for its uniqueness, ingenuity and beauty. A portion of the proceeds from the sales of this book goes to the people of New Orleans and the region through donation to the Coalition to Restore Coastal Louisiana. With the group's assistance, it is author Sins' goal to help preserve and restore the wetlands of Louisiana.
Personal Interview with author Amy Cyrex Sins and electronic photos of her, her associates who helped her put the book together and of the book available upon request.
For more information, contact:
Amy Cyrex Sins
504-616-4089
cookbook @ rubyslippersnola.com
###