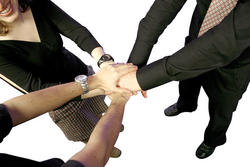 Structured wikis (also known as TWikis) at the workplace help solve collaboration challenges by empowering users to create their own wiki applications that support their daily work
San Francisco, CA (PRWEB) August 30, 2007
People-OnTheGo announced the third complimentary "Lunch and Learn 2.0" Webinar series (http://people-onthego.com/lunchandlearn-ontheair.html), which starts on September 6, 2007 and goes through the end of November 2007. The weekly Webinars in September are designed to help business professionals learn how Web 2.0 technologies, such as blogs and wikis, can enable them to better share information, more easily collaborate and cost effectively engage their audiences. The October Webinars will be focused on the new Microsoft Office 2007 applications, while the November Webinars will address organization and presentation skills. These complimentary sessions, conducted via Web and phone conferencing are 45 minutes long, and take place on Thursdays at noon Pacific Time.
"Users are seeking new ways to collaborate and share information without adding to an already overloaded e-mail inbox," indicated Pierre Khawand, founder of People-OnTheGo, a productivity training company in San Francisco, California. The first Lunch & Learn 2.0 Webinar session will take place on Thursday September 6 and is titled "Blogging in Action". The session will demonstrate the TypePad blogging platform from Six Apart. Michael Sippey, Vice President of Products for the Professional Division at Six Apart, indicates that "businesses of any size can use blogs as an effective tool for communication inside the organization and as a means to reach out to and get feedback from external audiences such as customers, partners and the public".
This will be followed by the "Structured Wikis -- the power of two" session presented by Peter Thoeny, the founder of TWiki.org and co-founder of TWIKI.NET. "Structured wikis (also known as TWikis) at the workplace help solve collaboration challenges by empowering users to create their own wiki applications that support their daily work," said Mr. Thoeny. The following Webinars will demonstrate Microsoft SharePoint and the office 2007 applications suite to help users save time and better manage their daily work. Finally, the November Webinars are designed to help users enhance their organization and presentation skills which are becoming indispensable in the workplace. Judy Grant, Founder and Principal of Grant and Associates, says "In today's work environment everyone has a shorter attention span. This means it is critical for business professionals to know and master skills that get the desired action in every communication, whether it is virtual or in person, small meeting or big meeting."
People-OnTheGo is making additional resources available to users in order to supplement the "Lunch & Learn 2.0" Webinar series and other productivity workshops that it offers. These resources include the "less-is-more" blog (http://less-is-more.typepad.com) where productivity tips are posted relating to managing e-mail, office applications, getting organized, managing time, and Web 2.0 technologies. Another resource is the "81-day-experiment" blog (http://81dayexperiment.typepad.com) where the latest smartphones are being reviewed including useful tips for selecting a smartphone.
About People-OnTheGo
People-OnTheGo helps companies and their employees effectively manage the use of e-mail, office applications, handheld devices and Web 2.0 technologies to save significant time, communicate more effectively, and minimize legal and security risks. The learning programs include onsite, virtual and Web self-paced modules, as well as one-on-one and team coaching sessions.
Contact:
Pierre Khawand
People OnTheGo
36 Caselli Avenue
San Francisco, CA 94114
http://www.people-onthego.com
Tel: (415) 503-1649
pierre @ people-onthego.com
# # #