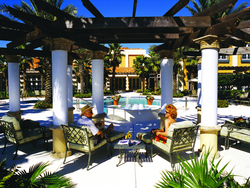 There are over 70 clubs and organizations and over 100 weekly activities to keep residents feeling young and energetic. Life here is like living on a luxury cruise ship that never leaves the pier
Orlando, FL (PRWEB) August 31, 2007
In an effort to promote their new Orlando golf homes community for those age 55 and better, Solivita® is offering 55+ couples a $49 three day, two night getaway that includes:
Two-night hotel stay
Complimentary lunch for two in the Mediterranean-style Village Center
Free use of recreational facilities including:
32,000 sq. ft. Spa & Fitness Center
Indoor and outdoor pools
17,000 sq. ft. Starlite Ballroom
A variety of arts and crafts classes
7 lighted tennis courts
5 lighted pickle ball courts
Championship caliber softball diamond
For a total of $69, couples can also enjoy a complimentary round of golf, played amidst the community's luxury Orlando golf homes on one of two championship golf courses.
Solivita® is currently selling 24 luxury style Orlando retirement homes that range in price from upper $100K's to over $500K. Those who purchase a home during their initial Discovery Days visit will be reimbursed for their travel expenses of airfare and gas up to a total of $1500.
"There are over 70 clubs and organizations and over 100 weekly activities to keep residents feeling young and energetic. Life here is like living on a luxury cruise ship that never leaves the pier," says Nanette Plescia, Corporate Vice-President of Marketing at Solivita® Orlando retirement homes community. (http://www.solivita.com)
The award winning Orlando golf homes community is planning to add many additional amenities to the property this December including a 19,000 square foot clubhouse with a state-of-the-art fitness center, a 4,000 square foot outdoor heated lap and splash pool, and much more.
For more information about Solivita®'s $49 or $69 Discovery Days offer or to reserve your Discovery Days dates, visit http://www.avatarhomes.com/communities/solivita/discoverydaysInfo.html.
About Solivita®: Solivita® (http://www.solivita.com) is an award winning Orlando retirement homes community that offers luxurious lifestyle living for those ages 55 and better. With more than 70 clubs and organizations, over 100 weekly activities, and luxury living amenities, the community is designed for those who choose to live their retirement years with purpose and excitement.
###