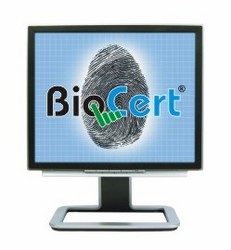 We are pleased that BioCert continues to expand its offering of desktop PC fingerprint readers and other innovative security products that use AuthenTec fingerprint sensors
Freeland, Wash. (PRWEB) September 4, 2007
BioCert®, a division of leading global supplier of fingerprint security devices Artemis Solutions Group (ASG), today announced the immediate availability of the enhanced BioCert® PCLokR™ Pro line of PC Peripherals to secure multi-user home personal computers, small/medium business and government PCs running Microsoft Windows XP or Vista and servers running Microsoft Server 2003.
The BioCert® PCLokR™ Pro 1610 is tailored for small business and home use where there are a limited number of users (up to 25 users). This fingerprint reader incorporates the AuthenTec AES1610 slide fingerprint sensor, one of the newest, smallest and most accurate sensors on the market. BioCert is one of the first companies to incorporate the AES1610 into a desktop PC security solution.
This ultra-small form-factor fingerprint reader priced at $39.95 is stylish, easy to use and provides a high degree of accuracy for the BioCert IDentity login. A special bundled price of the BioCert Identity software with the PCLokR Pro 1610 is available from the company's MyBioCert website for only $49.95. This bundle also comes with a full PC security suite from ASG partner Comodo including Personal Anti-Virus, Anti-Spam and a free Personal Firewall for Windows XP for life.
One of the unique aspects of the BioCert PCLokR product line is that it is one of the only biometric security solutions available on the market that is designed, assembled and tested in the U.S. The product design, PCB manufacturing, molding, kitting, product assembly and testing were all done inside the United States.
"When customers buy our PCLokR with the BioCert IDentity software, we want them to know they are getting a quality product that will help protect their identity, and that it's made here in the U.S.," said James Childers, CEO of ASG. "We were focused on creating as much of this product as possible in the U.S. instead of outsourcing the jobs overseas -- a radical departure from traditional electronics manufacturing where almost all of the products are made in China or some third world country with extremely low labor and production costs. We believe that 'Made in the USA' has to mean something again, and as a community-conscious company, we don't want to contribute to sending American jobs overseas just to save a buck. The interesting revelation we had throughout this process is that producing these products here in the U.S. adds significant value without adding much cost. We found that even customers inside China are saw added value for a US made product."
BioCert has collaborated with industry leader AuthenTec to produce two versions of the PCLokR for home and business use. The BioCert PCLokR 2501 incorporates the extremely accurate and durable AES2501 swipe sensor from AuthenTec. The BioCert PCLokR 2501 is compatible with most one-to-many enterprise-level matchers.
"We are pleased that BioCert continues to expand its offering of desktop PC fingerprint readers and other innovative security products that use AuthenTec fingerprint sensors," said Tom Aebli, AuthenTec director of PC segment marketing. "BioCert is among the first OEMs to provide a desktop PC solution using our AES1610 sensor, and we look forward to continued collaboration with this American electronics manufacturer."
The BioCert PCLokR product line is being marketed by BioCert as a solution for home users to help them prevent identity theft and as a solution for small/medium enterprises or government agencies to enable them to comply with PCI-DSS (Payment Card Industry - Data Security Standard), SarbOx Sarbanes-Oxley Act of 2002, and HIPAA (Health Insurance Portability and Accountability Act), GLBa (Gramm Leach Bliley Act) among other Federal, State & Local security and privacy regulations
For more information or to purchase the BioCert IDentity Software and the PCLokR Pro 1610 and PCLokR Pro 2501, customers can go to the company's solution website.
Microsoft, Microsoft Windows, Windows Vista and Windows Server 2003 are registered or claimed trademarks of the Microsoft Corporation.
About ASG and BioCert
Artemis Solutions Group (ASG) is a closely held, private security firm specializing in fingerprint biometric and smart card security solutions. With offices in the US and Europe, ASG sells directly and through its network of resellers and system integrators best of breed biometric and smart card security systems to small & medium business and local government agencies throughout the world. ASG markets a range of computer, software and consumer products under its properly registered and owned trademark BioCert®, BioSaf® and iQBio™ through a network of domestic and international resellers and extensively on the Internet through their owned and operated e-commerce websites. BioCert® PCLokR, PCLokR and BioCert® IDentity are registered or claimed trademarks of ASG in the United States and European Union.
About AuthenTec
With more than 20 million sensors in use worldwide, AuthenTec is the world leader in providing fingerprint authentication sensors and solutions to the high-volume PC, wireless device, and access control markets. AuthenTec's award-winning sensors take full advantage of The Power of Touch® by utilizing the company's patented TruePrint® technology to deliver the most convenient, reliable and cost-effective means available for enabling touch-powered features that extend beyond user authentication. The company's customers include: Acer, ASUSTeK, Fujitsu, HP, Hitachi, HTC, Lenovo, LG Electronics, Samsung, and Toshiba, among others.
# # #