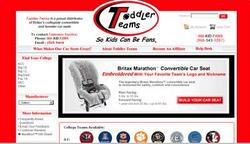 The launch of our website in conjunction with the start of the 2007 football season presents a tremendous opportunity for Toddler Teams
Stamford, CT (PRWEB) September 5, 2007
Sports fans come in all shapes, sizes, and ages. To encourage future college sports fans and coinciding with the start of football season, Toddler Teams announces the grand opening of its online store, which features the collegiate Britax Marathon™ convertible car seat.
"The launch of our website in conjunction with the start of the 2007 football season presents a tremendous opportunity for Toddler Teams," explains Boyd Harden, President of Toddler Teams. "We are excited to introduce our one-of-a-kind car seats, which are perfect for the college fan that has children or grandchildren. We encourage parents to be expressive and to cultivate an enthusiastic bond between their children and favorite college team."
Toddler Teams is the only company that carries all 27 collegiate Britax Marathon car seats and ships them within two business days of receiving a customer's order. Offering the ability for customers to select their favorite school and to view an image of their collegiate Britax convertible car seat before purchasing it online, Toddler Teams is committed to responding within 24 hours to all consumer inquiries made via email or phone. Toddler Teams is also dedicated to establishing a lifelong partnership with their clients as their children and/or grandchildren grow and need to be upgraded into a collegiate booster seat.
"We are thrilled to be associated with Britax Child Safety, Inc. and value our partnership with one of the world's premiere car seat manufacturers," describes Harden. "By opening an online store, consumers are able to purchase a collegiate Britax car seat at anytime and from anywhere within the U.S. Also, our encrypted credit card security is provided by the highly trusted Network Solutions, so our customers are guaranteed online protection whenever they shop with Toddler Teams."
All seats feature vibrant Microfibres® covers with officially licensed, embroidered logos and the superior construction for which Britax is known. The Britax convertible car seat features a five-point, tangle-free harness; the patented Versa-Tether® and HUGS® systems; built-in lock-offs; the flexible buckle LATCH system; a one-hand recline adjustment and a belly pad for comfort and protection. All car seats install quickly and lock tightly.
To learn which college teams are available or to purchase a collegiate Britax Marathon™ convertible car seat, please visit ToddlerTeams.com or call 866-543-3267.
About Toddler Teams:
Founded in 2005, Toddler Teams is a veteran-owned company that licenses, embroiders, and sells Britax convertible car seats and booster seats with college logos on them. Toddler Teams in an officially licensed collegiate products company that is endorsed by the Collegiate Licensing Company (CLC) in Atlanta, Georgia. In addition, Toddler Teams donates a portion of its profits for every car seat that is sold to the Marine Toys for Tots Foundation.
###