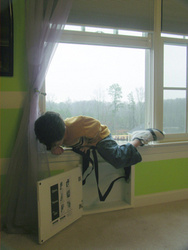 As the second largest homebuilder in the greater Sacramento area, we feel it is our obligation to help protect the families who purchase our homes. To ensure their safety and help prevent tragedy in the communities where we build, KB Home will be offering PEARL to all of our Sacramento buyers
Atlanta, Georgia (PRWEB) September 4, 2007
PEARL Protected®, creators of the patented Permanent Escape And Rescue Ladder (PEARL®) for two and three-story homes, today announced that three of Sacramento's leading homebuilders are now installing PEARL ladders as an optional feature in their newest residential communities. KB Home Sacramento Division, Tim Lewis Communities and MBK Homes are the first homebuilders in Northern California to offer permanent escape ladders as a way to protect residents from the threat of residential fire and other home emergencies. These builders, which together will build approximately 1200 homes in 2007, will give homeowners the option to install the ladders in upstairs bedrooms for a nominal cost.
Over the past decade, home safety - especially fire safety - has become a growing concern for many Americans. A recent study from the National Fire Protection Association found that nearly 75 percent of the nation's fire departments are unable to comply with widely recognized response time guidelines because they don't have enough fire stations or firefighters. In effect, residents must have a safe and readily-available alternative means of escape from upstairs rooms in case fire rescue personnel are not able to arrive on the scene in time.
The PEARL escape ladder meets these requirements. Because PEARL can be permanently installed into the interior wall space below second and third-story windows, homeowners have peace of mind knowing they have an easy-to-use means of escape right where they need it, when they need it.
"As the second largest homebuilder in the greater Sacramento area, we feel it is our obligation to help protect the families who purchase our homes. To ensure their safety and help prevent tragedy in the communities where we build, KB Home will be offering PEARL to all of our Sacramento buyers," said Barry Grant, KB Home, Sacramento division president.
Details about these pioneering homebuilders include:

Celebrating its 50th anniversary in the homebuilding industry, KB Home is one of America's largest homebuilders and the second largest in Sacramento. With 11 single-family and master planned communities in the Sacramento area, KB Home has already started offering PEARL in its newest community. Headquartered in Los Angeles, the company has domestic operating divisions in 15 states, building communities from coast to coast. KB Home is a Fortune 500 company listed on the New York Stock Exchange under the ticker symbol "KBH." For more information about any of KB Home's new home communities or complete mortgage services through Countrywide KB Home Loans, call 888-KB-HOMES or visit http://www.kbhome.com.
Tim Lewis Communities, which has been honored with several awards for home design, customer satisfaction and community service, is currently building 10 popular communities in the Greater Sacramento area. These communities feature semi-custom home designs and family community features that go well beyond typical neighborhood standards. Tim Lewis Communities is already offering the PEARL permanent escape ladders at Brentwood Estates and Brentwood Villas in Orangevale as well as Amberleigh at Madeira in Elk Grove. For more information, please visit http://www.timlewis.com.
MBK Homes expanded into the Northern California Market in 2005 and recently opened its first community which has drawn rave reviews from buyers and fellow industry professionals alike. Currently, MBK Homes is offering PEARL in Camden Place, a new community in Citrus Heights. They will also offer PEARL in two more communities scheduled to break ground this fall: Talmont in Fair Oaks and Bella Strada in Elk Grove. Each of these communities will feature PEARL as an optional upgrade for second and third-story bedrooms. To learn more about MBK Homes, visit http://www.mbkhomes.com.
James McMullen, a retired California State Fire Marshal, and founder of The McMullen Company, a fire safety consultancy, has helped define residential fire safety standards for most of his 40-year career. As a resident of Davis, California, he believes these builders are helping promote the importance of fire safety in the home.
"Nearly 17,000 people are killed or injured in house fires every year. It's a serious threat to any homeowner, but not a factor most people consider when buying a house. These builders are helping to change that - which is a landmark step in helping improve residential fire safety everywhere," said James McMullen.
Masco Contractor Services, which is locally known as Sacramento Building Products, will be providing the PEARL escape ladders and installation services to these pioneering builders.
Since its October 2005 debut, PEARL has become one of the most recognized home safety products in the marketplace. PEARL received the 2006 Product Innovation Award from the Home Safety Council as well as several other building product awards. PEARL has also been featured in two different episodes of ABC's "Extreme Makeover: Home Edition" and has been showcased on NBC's "Today" and CBS's "The Early Show." For more information about PEARL Protected, visit http://www.pearlprotected.com.
About PEARL Protected
Headquartered in Atlanta, Georgia, PEARL Protected is redefining the standards of home and fire safety through its patented, breakthrough product - PEARL - a revolutionary Permanent Escape And Rescue Ladder that can be quickly and easily deployed in the event of a residential fire or other home emergency. It is currently available through a variety of channels, including the nation's largest homebuilders and building supply dealers. PEARL can also be ordered directly through the PEARL Protected website (http://www.pearlprotected.com) or via phone at 800.374.5737.
###