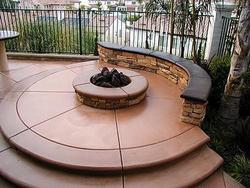 The allure of sitting around a fire has been around since the beginning of mankind. Fire provides warmth, light, a cooking source and, of course relaxation. A dancing flame has a mesmerizing affect that encourages you to unwind and settle in
Yucaipa, CA (PRWEB) September 6, 2007
Fire pits are quickly becoming a staple in today's backyard designs. Throughout the country families are gathering around these hot items for outdoor dining and entertaining, and they're keeping warm at the same time.
The Concrete Network Website has recently launched a new section on everything there is to know about choosing the right outdoor fire pit for your outdoor living area.
The section is filled with helpful insights and design tips by Garden Artisan Scott Cohen of The Green Scene in Canoga Park, CA. He shares design and construction guidelines from over 20 years of high-end residential experience. In this section he focuses on design possibilities, fire pit styles, construction techniques, and more. The section also offers an extensive fire pits photo gallery filled with photos of outdoor areas finished with beautifully designed fire pits.
"The allure of sitting around a fire has been around since the beginning of mankind. Fire provides warmth, light, a cooking source and, of course relaxation. A dancing flame has a mesmerizing affect that encourages you to unwind and settle in," explains Cohen.
The popularity of fire pits, or conversation pits, as they are commonly called, has grown rapidly in recent years. It is important when designing and building these features to remember a few helpful tips: locate features in areas where guests can enjoy a view, place features where they can be seen and enjoyed from indoors as well, locate the fire pit in an area where it will be most enjoyed, and always plan for safety, keeping away from high traffic areas. Following these tips will ensure a safe and enjoyable feature that will last several decades.
For more on these tips and other information regarding outdoor fire pits and fireplaces, visit http://www.ConcreteNetwork.com.
Established in 1999, The Concrete Network's purpose is to educate consumers, builders, and contractors on popular decorative techniques and applications. These include stamped concrete, stained concrete floors, concrete countertops, polished concrete, and much more. In July 2007 The Concrete Network Website had over 1.3 million visitors researching decorative concrete.
The site excels at connecting buyers with local contractors in their area through its Find-A-Contractor service. The service provides visitors with a list of decorative concrete contractors throughout the U.S. and Canada, and is fully searchable by 23 types of decorative concrete work and 200 regional areas throughout North America.
Article photo courtesy of Surfacing Solutions. Attached photo courtesy of Bomanite Corp.
###