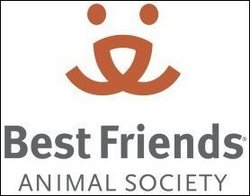 This decision points the way for communities to work together to combat institutional animal hoarding
Kanab, UT (Vocus) September 6, 2007
A decision by a Nevada judge to not return more than 100 cats seized from a woman's home could change the way courts and the general public view the problem of animal hoarding.
This decision resulted in the animals being awarded to national animal welfare group Best Friends Animal Society (Justice Court of Pahrump Township, County of Nye, State of Nevada, Case No. 07 PC 03502). "This decision points the way for communities to work together to combat institutional animal hoarding," said Russ Mead, general counsel for Best Friends.
The animals from the Pahrump, Nevada Justice Court case are now at the nation's largest companion animal sanctuary, operated by Best Friends in southern Utah. Best Friends is widely recognized for developing and implementing best practices in group living situations for companion animals.
"Institutional hoarding is different from the case of individual cruelty, like the kid who doses gasoline on a dog and sets it on fire," Mead said. "Hoarders have the potential to harm hundreds of animals at a time while sometimes hiding behind the no-kill movement, declaring nonprofit status and keeping the public away from the facility. Animal hoarders can be members of the chamber of commerce while the animals in their care are suffering silently, in horrendous conditions."
In most hoarding cases, animals are doomed to euthanasia. But Mead said in this case, a county came forward in the best interest of the animals. "Because Nye County's animal control, county government, and the judicial system worked in concert with animal welfare, lives were saved."
In early August in Pahrump, Sheri Allen was arrested and charged with 125 counts of animal cruelty in connection with the severe health conditions of animals in her home. She formerly had operated a cat rescue operation and still had these animals in her possession. The 114 cats plus two dogs and a handful of pocket pets were taken away and housed at Nye County Animal Shelter since the beginning of August where a team from Best Friends cared for them daily.
"We had an arrangement with Nye County that if they gained possession of the animals, we would adopt them," Mead said. "We did so immediately following the judge's ruling. We will do whatever is necessary to keep them safe and help them recover. Our goal is for all of them to be adopted, and Best Friends has an extremely high adoption rate for animals at our sanctuary."
A Best Friends rapid response team was already in Pahrump at the time of Allen's arrest, having been called in by Nye County Animal Control to care for more than 600 cats seized at a facility in Pahrump in mid-July. That rescue operation is still underway: http://network.bestfriends.org/nyecounty/news/.
Mead said what happened in Pahrump will be an encouragement for other animal welfare groups and communities to know that they can work together to combat institutional hoarding.
Here are some typical indications of institutional animal hoarding:

Volunteers and the general public are not encouraged to visit and are not welcomed at facilities presented as a sanctuary, rescue or adoption center
The animals are rarely or never adopted out
Typically, but not exclusively, a hoarder will have hundreds of animals and the care is substandard, i.e. facilities not cleaned daily, food and water is no changed daily, medical needs are not addressed as they arise
The person or people operating the facility are focused on acquiring more animals
False cries of help include, "We just need a little assistance to get this back on track," along with a failure to utilize the offers of help or suggestions to improve the operation from competent sources
A long history of operating facilities housing animals and moving from location to location as a community forces the purported rescuers to move
Best Friends Animal Society has proven for more than 25 years that the no-kill philosophy is a sound one. Every year visitors from around the world are welcomed at Best Friends Animal Sanctuary near Kanab, Utah. Many of these visitors come to learn how to establish and operate a well-run sanctuary for abused and abandoned animals, as well how to get rescued animals into good new homes.
"Best Friends believes homeless pets deserve a second shot at life and a well-run sanctuary or rescue groups offers a safe haven until they are adopted.
"Best Friends strongly feels institutional hoarding is a problem communities can tackle. While we were happy to be a major part of this rescue, we realize that we can not be involved in all situations involving hoarders or institutional hoarding.
"We welcome the opportunity to work with municipalities and local animal welfare organizations on this important issue. The solution to the homeless pet problem remains a commitment to spay/neuter and adoption. Well-run, no-kill sanctuaries play a pivotal role in ending the homeless pet problem," Mead said.
About Best Friends Animal Society
http://www.bestfriends.org
Located on 33,000 acres in Kanab, Utah, Best Friends Animal Society operates the country's largest sanctuary for homeless pets and is home, on any given day, to about 1,500 dogs, cats, horses, rabbits, birds and other animals. Best Friends works globally with animal shelters and rescue groups to bring about a time when there will be no more homeless pets. Best Friends advances initiatives nationwide that promote community approaches to make the world a better place through kindness to animals, including adoption, spay/neuter, and humane education programs.
"Kindness to animals builds a better world for all of us."
###