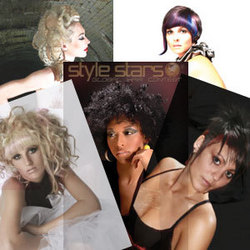 Fort Lauderdale, FL (PRWEB) September 6, 2007
The Style Stars® Global Hair Contest has announced the top ten finalists in its worldwide hairstyle competition.
Since the contest launched on January 1st, 2007, hair stylists and hairdressers from around the globe have been submitting their entries. Now the judging panel has narrowed down the list of finalists to ten entries:

Becci Renfro, Salon Progressions and Day Spa, Wichita, Kansas, USA - Photo By: Becci Renfro, Makeup By: Daisy, Model: Daisy Randall
Chantel Didych, Enchante Hair Design, Winnipeg, Manitoba, CANADA - Photo By: Rachel Mclay, Makeup By: Chantel Didych, Nicole Didych, Model: Nicole Didych
Demica Wilson-Howell, How Well Is It? Salon and Spa, Huntsville, Alabama, USA - Photo By: OJ Rice, Makeup By: Demica Wilson-Howell, Model: Bethany Simmons
Kelley DeCoste, Euphoria Salon and Spa, Brighton, Michigan, USA - Photo By: Louise Starbird, Makeup By: Kelley DeCoste, Model: Jill Wilson, Ally Drew
Kristie Charlton, HennesyLane Hair Design, Victoria, Melbourne, AUSTRALIA - Photo By: Rod Anker, Makeup By: Kristie Charlton, Model: Nichola Jane Crouch
Lizzie Ibarra, The Aparment, San Juan, PUERTO RICO - Photo By: Johnny Torres, Isabel Gandig, Makeup By: Lizzie Ibarra, Model: Naomi Morrison, Fiena Iguina
Margaret Presscilla Estes, Accented Hair Designs, Anchorage, Alaska, USA - Photo By: Apogee Studios, Makeup By: Presscilla Estes, Model: Kirsten Johanson
Rod Anker, HennesyLane Hair Design, Victoria, Melbourne, AUSTRALIA - Photo By: Rod Anker, Makeup By Kristie Charlton, Model: Hannah Nixon
Sean Yoell, Accents Hair Studio, Tecumseh, Ontario, CANADA - Photo By: Chalet studios, Makeup: Sean Yoell. Model: Anita Baldi
Roberta Commisso, Hair Xtacy, Burlington, Ontario, CANADA - Photo By: Vince Cianci, Makeup By: Roberta Commisso, Model: Karley Belcourt
To get to this stage of the judging, contestants submitted three before images and three after images. They were judged on technique, creative approach, and the harmony between cut, color and texture.
Judges Panel:
Selected judges are among the best in the hair and beauty industry; including celebrity hairstylist Candy Shaw Codner as head judge, Canadian super stylist Brad Graham Kirner, Italian top hairstyle artist Egidio Borri, platform artist and educator Bruce Todd, founder of London Hair, Inc. Frances London DuBose, fashion photographer Tom Carson and celebrity makeup artist Katherine Queil.
All ten finalists will now proceed to the next stage of the contest which will determine the grand prize winner, to be announced in October, 2007.
The winner and his/her hair model will be flown to Puerto Rico for a four-day stay at a beachside villa near Yabucoa. Activities there will include several hair styling sessions and photo shoots by renowned fashion photographer, Tom Carson. The resulting new hair styles and photo spread, to be entitled "Caribbean Dreams", will be published in top hair and fashion magazines in US and Europe, helping to advance the winning hair artist's career.
The winner will receive a prize package valued at over $150,000, including:
1. A Style Stars® Global Hair Contest Trophy engraved with the winner's name, valued at over $1000.
2. $5000 in cash.
3. Full page coverage in professional beauty magazine Hair's How
4. Exposure and coverage in Modern Salon Magazine
5. Exposure on the cover of Total Image Magazine.
6. A full set of hair extensions and a two-day training program by Great Lengths Hair Extensions
7. A set of certified Frances London Duboise Scissors
8. Yellow Strawberry Global Salons brand name for three years.
9. A professional photo shoot, in Italy, with pro hairstylist Egidio Borri.
10. A gold diamond watch donated by Jesse Briggs.
11. Two airfare tickets to Puerto Rico for the winner and his/her hair model.
12. A four-night stay in Lucia Beach Villas including a professional photo shoot by photographer Tom Carson and directed by Jesse Briggs.
13. Five days with Legendary Hair Icon Jesse Briggs; including airfare and lodging.
14. Five-days of salon management training from Denise Briggs.
15. An original lock of Paul McCartney's hair framed with a certificate of authenticity from the Beatles fan club.
For a detailed list of prizes visit: style-stars.com.
All finalists' names and entries will be published on StyleStars.com and other digital media including partner website short-hair-style.com
About Style Stars®
Style Stars® is an annual global hair competition conducted online and via email. Its mission is to find exciting new hair styling talent and promote individual artists from different cultural backgrounds. Style Stars' founder and President ,Jesse Briggs, also owns the Yellow Strawberry Global Hair Salons, headquartered in Fort Lauderdale, FL.
###