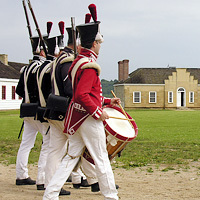 The important thing is to gain something of lasting value when traveling -- such as increased knowledge and personal growth -- along with great scrapbook pictures and happy memories. History travel is a great choice
Jackson, CA (PRWEB) September 6, 2007
Although America's living history is intriguing to a large population of people -- including armchair travelers and school kids as well as history buffs and retired baby boomers -- the process of identifying the best history-oriented visitor attractions has been surprisingly difficult. History travelers want a good story and tend to favor specific time periods or cultures. Once they've exhausted their own wish-list and the recommendations of friends, where do they turn for new ideas? Conventional guidebooks take a soup-bowl approach, tossing in every kind of destination rather than focusing on historical places. What's more, they organize destinations by cities/states/regions -- that's not good when location is secondary for the history traveler.
A new website -- http://www.AmericasLivingHistory.com -- offers a wealth of information, including travel articles, historical tidbits, color photographs and an online store, all focused specifically on America's early years. Special sections are tailored to the interests and needs of various types of readers, especially the following:
armchair travelers, RVers and road trippers, families of all ages, educators and librarians, homeschoolers, ethnic and religious explorers, foreign travelers and immigrants.
This unusual and educational website is a spin-off of the innovative new traveler's guide, 'America's Living History-The Early Years.' It was created by the book's authors, Suzanne and Craig Sheumaker, who have a passion for history travel and love to share insights about the premier historical places. "Our goal is to encourage people to have fun with U.S. history -- to discover new things, be entertained and be enlightened. In the end, we hope they will see both America's past and its present through very different eyes," Suzanne notes. "The important thing is to gain something of lasting value when traveling -- such as increased knowledge and personal growth -- along with great scrapbook pictures and happy memories. History travel is a great choice," adds Craig.
What is history travel? It is one of the fastest growing forms of leisure travel in the U.S. and is defined as travel to places that celebrate a people's heritage or historic identity. The best destinations offer a dynamic, real-world opportunity to bring the past to life. They are either historic sites or authentic reconstructions, typically staffed by costumed interpreters. Here, travelers do more than see important places. They also learn through interpretive programs how our ancestors lived, worked and enjoyed life in a time and place that was very different from today. Many offer special classes where the public can make early American crafts, spin thread and weave cloth, learn about heirloom gardening, build handcrafted furniture and even do blacksmithing.
About the Authors
Suzanne and Craig Sheumaker are history-travel experts who have explored more than 125,000 miles of the U.S. by car and RV. They created the new guidebook 'America's Living History-The Early Years' to bring together in one place historical and tourist information about destinations that recall what is arguably America's most formative years -- the time before the 1840s westward movement. The colorful 224-page book is receiving high praise for its unique approach to both U.S. history and U.S. travel. With insightful text and 500 destination photographs, it enables readers to page through America's early years chronologically -- from a land occupied by Native Peoples, to European colonization and the formation of a new nation, to the initial stages of westward expansion. Along the way, readers discover an enormous variety of exciting places that can be enjoyed today. Regional maps and tourist information make travel planning easy for those who want to see these attractions in person.
'America's Living History-The Early Years' was released in May 2007 by Red Corral Publishing and is available wherever travel books are sold, including Amazon.com, BarnesAndNoble.com and other online bookstores. Autographed books, gift-wrapped free upon request, are available direct from the authors via their online store at the website AmericasLivingHistory.com. ISBN: 978-0-9792598-0-7
Contact:
Red Corral Publishing
Suzanne Sheumaker
209-295-5582
http://www.AmericasLivingHistory.com
# # #