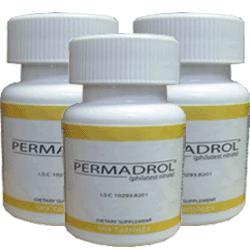 Aurora, CO (PRWEB) September 7, 2007
Permadrol is a new legal anabolic steroid alternative that is being sold at Zupplements.com, a leading internet retailer of bodybuilding supplements.
What is Permadrol?
Permadrol is an anabolic steroid alternative that was developed as a legal, non-prescription substitute to testosterone replacement therapy. It contains a blend of four testosterone enhancement compounds that work together to increase the users' testosterone levels. Like pro-hormones of the past, Permadrol is comprised of elements that are found in nature. However, unlike pro-hormones, Permadrol is designed to not interrupt the natural testosterone production cycle as it works through natural pathways. This not only makes it legal for sale in the USA, but also a safer choice than using anabolic steroids.
With a goal-specific exercise and nutrition program, most users will find they achieve results faster when they incorporate Permadrol into their supplement regimen. Permadrol can be used as a stand-alone product; however it is best utilized as a base component of an anabolic stack that contains protein, creatine and a multi vitamin. Even though it does not contain any stimulants or energy producing ingredients, Permadrol can also be effectively used in fat loss programs as well.
The primary goal of Permadrol is to increase testosterone levels. This will put the user in an anabolic state resulting in increased muscle growth, more energy, better stamina, more intensity, reduced recovery time and increased metabolism. This can be a great benefit for both bodybuilders and professional athletes alike.
Who Should Use Permadrol?
Anyone who could benefit from higher testosterone levels may benefit from using Permadrol. In men, testosterone levels start to decline as they get older. Testosterone replacement compounds like Permadrol have a wide variety of benefits that range from increased athletic performance and bodybuilding to anti-aging and sexual enhancement effects. "The real beauty of Permadrol is its versatility!" says Anthony Robbinson, consultant to the Zupplements.com team who has introduced Permadrol to the U.S. market. "It can benefit pretty much anyone regardless of their goal or experience level" states Robbinson.
Athletes who take their workouts very seriously may find Permadrol is a safe alternative to using prescription anabolic steroids. Although it is available for sale to men and women over the age of 18, men over the age of 35 are the most susceptible to low testosterone levels and may find this product to be the most useful.
Permadrol and Bodybuilding:
Although Permadrol was not designed for the bodybuilding marketplace but it fits in very well there. Bodybuilders who use synthetic steroids may find using Permadrol is an effective and much safer route for increasing testosterone. In the bodybuilding community, testosterone is known as the king of all muscle builders, making Permadrol a popular multi-market supplement.
Permadrol a Steroid Alternative?
Prescription anabolic steroids are synthetic versions of the natural hormone, testosterone. Products like Permadrol are often marketed as safe and effective alternatives to illegal anabolic steroids because of their ability to increase testosterone production in the body. And because it contains only naturally occurring substances, Permadrol is more advanced than steroids and pro-hormones of the past. Permadrol is most closely compared to Sustenon 250 and Primobolan both very powerful prescription anabolics. It is destined to be featured as an effective steroid alternative in many industry publications as well.
Permadrol Cautions
As with all products of this nature, Permadrol is not officially endorsed by the US Food and Drug Administration (FDA). In fact, websites who market Permadrol make it clear to that statements contained on their website have not been evaluated by the FDA. They further state that Permadrol must be used in conjunction with a nutrition and exercise program. Permadrol is also not intended to cure or prevent any disease.
Who Is Wesley-Adams?
Wesley-Adams is a nutritional supplement manufacturing and design firm. Although they are new to the USA they are not new to the supplement manufacturing industry. They create high quality, effective dietary supplements with large market appeal and a clean, professional look. Permadrol is their newest product and is expected to acquire a large part of the steroid alternative market. It is not found in retail stores, but can be purchased online at http://www.Zupplements.com and select gyms across the US.
Zupplements.com specializes in Select, Proven Bodybuilding Supplements and Steroid Alternatives. The Best Prices and Excellent Service! If you would like more information on Permadrol or other steroid replacements, visit us on the web at http://www.Zupplements.com or call toll free at 1-888-987-7748.
###