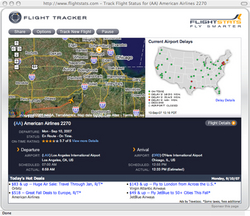 Portland, Ore. (PRWEB) September 11, 2007
Do you know where your loved ones are? Tracking the flight of a traveling family member, boss, or colleague just got a lot easier with FlightStats' introduction of a map-based flight tracker. All you need to know is what airline they're using and their departure or arrival cities to zero in on the precise geographic position and estimated arrival time of their flight. The new flight tracker combines the power of Google® Maps with FlightStats' up-to-the minute flight data to show you the exact location of the flight over a standard, satellite or hybrid Google Map of North America.
The interactive Web application refreshes automatically as the flight progresses. Companion screens show weather information in both the arrival and departure cities and alert you to any airport delays that might affect the flight. Flight information displayed below the map includes the historical on-time arrival rating for the monitored flight, its scheduled and actual departure time, and its estimated arrival time. Viewers can click through to get more flight details and set up alerts to deliver updates on the flight to a mobile phone or PC. To track a flight visit:
Use of the tracker is free and requires no login to track a flight. The advertising-supported flight tracker is also available for free syndication on travel sites, weather sites, blogs and personal web pages. FlightStats offers other syndicated content such as interactive airport delay maps, weather applications and flight status/flight alert applications from:
FlightStats Syndication Center
About FlightStats
FlightStats is an airline, airport, and travel information service provided by Conducive Technology Corp. On our Web site at http://www.flightstats.com visitors can get flight status, view on-time performance ratings by flight or by airline, check for current airport delay and weather information, and much more. All services are free to site visitors and many services are available as widgets or weblets for installation on other web sites. FlightStats provides global flight status information and is the definitive source for historical airline performance data. Conducive Technology is also a leading supplier of air travel information services to travel agencies, logistics professionals, airlines, airports and industry analysts.
Media Contacts:
David White
(503) 445-4220
Meara McLaughlin
(503) 445-4244
###