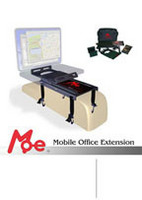 Lake Tapps, WA (PRWEB) September 12, 2007
At the center of mobile connectivity revolves the laptop computer. The (MOE) Mobile Office Extension makes sure the customer's laptop is at their fingertips whether stuck in traffic or exploring Route 66. The MOE is a temporary vehicle mount, manufactured in the U.S. and produced by Rissler R & D for the express purpose of maximizing laptop integration. The MOE securely mounts a laptop or other electronics into any vehicle quickly and easily, while still being fully removable.
Additional new products include a sun/glare/privacy screen (SGP), and a screen stabilizer bar (S3), printer enclosure (PE) and work desk (WD). The MOE products are offered as individual items or task oriented packages. Sales are available directly from the manufacturer through the website or customer service.
The MOE is a modular system based around a central base and cradle and an ever growing number of task specific components. The cradle securely holds a laptop and the base provides flexible attachment options for each vehicle type. The cradle can be configured for most laptop brands with screens ranging from 12 to 21 inches. The MOE eliminates leased vehicle prohibitions by installing and removing without hardware or the need for tools. The MOE can quickly be transported between multiple vehicles, inserted into a laptop carrier or stowed in the included attractive travel bag. Travel and ease of airline check-in was a major consideration as components are built of non-metallic materials and fit in travel luggage.
The MOE is currently being used in variety of professions. Some of these include real estate, insurance, medical, law, delivery and general sales. The MOE is also in use by search and rescue groups, pipeline inspection teams and amateur radio operators as part of their everyday operations. Many other electronics are suitable for mounting besides laptops, such as portable DVD players and gaming consoles.
Rissler R & D was founded by Lawrence Rissler to apply much of the specialized experience gained while working in the Aerospace and Automotive research and development fields. RR&D began manufacturing in 2004 to provide products that enhance the mobile office environment.
More information and images available on request, information and images are also available at: http://www.rissler-rd.com.
###