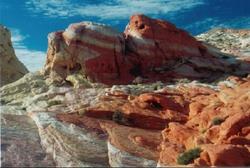 In comparison to our competitor websites, VirtualTourist.com has the highest composition of readers who take one domestic trip per month and the highest composition of readers who take one international trip per year
Los Angeles, CA (PRWEB) September 12, 2007
VirtualTourist.com, the largest online travel research site and travel community in the world, reveals destinations -- in the United States and internationally -- forecasted to experience the greatest surge in travel buzz this fall, according to travel patterns and editorial research.
VirtualTourist, consisting of 100% user-generated travel content, draws over six million travelers monthly, who research upcoming trips and share travel reviews, tips and photos from previous trips. Travelers ask and answer questions in the travel forums, and create custom travel guides with VirtualTourist's Trip Planner tool.
"In comparison to our competitor websites, VirtualTourist.com has the highest composition of readers who take one domestic trip per month and the highest composition of readers who take one international trip per year," said Giampiero Ambrosi, General Manager of VirtualTourist. "So when our seasoned, on-the-ground travelers tell us directly or via their research about their new travel hotspots, we listen.'"
Ambrosi added, "This fall, travelers are looking for more innovative destinations, places more off the mainstream path. Valley of Fire State Park in Nevada is one such example; 55 miles away from Las Vegas, it's a red sandstone wonderland that's a far cry from the lit-up Strip, but it's still very accessible."
As for the top-ranking fall destination internationally, VirtualTourist member acemj has this comment about the beautiful, volcano-surrounded Lake Atitlán, Guatemala: "I can't really figure out why Lake Atitlán is not more well-known throughout the world."
VirtualTourist analyzes the feedback and posting research activities of more than six million monthly unique users to determine the world's up-and-coming travel destinations. The VirtualTourist Up-and-Comers Index pinpoints locales that have experienced increases in interest over the past 12 months.
VirtualTourist Up-and-Comers Index, Fall 2007
U.S. Destinations
1) Valley of Fire State Park, Nevada
2) Rehoboth Beach, Delaware
3) Molokai, Hawaii
4) Ocracoke Island, North Carolina
5) Bisbee, Arizona
6) St. Michaels, Maryland
7) Yachats, Oregon
8) Redwood National Park, California
9) Chimayo, New Mexico
10) White Sulphur Springs, West Virginia
International Destinations
1) Lake Atitlán, Guatemala
2) Tartu, Estonia
3) Irkutsk, Russia
4) São Miguel Island, Portugal
5) Mérida, Venezuela
6) Chitral, Pakistan
7) Raiatea, French Polynesia
8) Exmouth, Australia
9) Valladolid, Mexico
10) Sangkhla Buri, Thailand
About VirtualTourist.com
VirtualTourist.com is the largest online travel community in the world and a premier resource for travelers seeking an insider perspective on travel information, from Las Vegas hotels to New York City restaurants. On http://www.virtualtourist.com, real people share real advice on places they've traveled as well as their hometowns; they research and plan trips, and they interact with other avid travelers via travel forums and email. VirtualTourist boasts more than 1.5 million travel reviews and 3 million photos on more than 25,000 destinations worldwide. Unbiased, user-generated content on Hotels, Attractions, Local Customs, Tourist Traps and much more is posted entirely by VirtualTourist's more than 925,000 registered members from over 220 countries and territories, and the site's Trip Planner feature allows users to create custom print-and-go travel guides. Among VirtualTourist's awards and accolades: 'Sites that Changed Our World,' The Guardian; 'Favorite Website,' Newsweek; '35 Best Travel Sites,' Travel + Leisure.
Photo credit: VirtualTourist.com member Sharrie
###