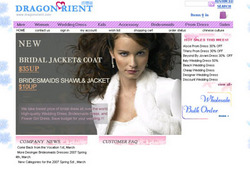 We strive to save a bride's budget by offering high quality, stylish discount bridesmaid dresses and wedding gowns at affordable prices.
(PRWEB) September 12, 2007
When it's the one, she knows it. The search for the perfect wedding dress is a tradition that is practiced in many cultures. Making the hunt even easier, Dragon Orient's exquisite, affordable wedding dresses are a breath of fresh air in a market dominated by high prices. Now offering custom-made services, all merchandise is made from fine, high quality fabrics and materials. Find accessories and dresses for the entire wedding party, including the mother of the bride, without breaking the budget.
Dragon Orient CEO Nelson Fan says, "We strive to save a bride's budget by offering high quality, stylish discount bridesmaid dresses and wedding gowns at affordable prices."
The cost-efficiency found in Dragon Orient's inventory does not stop at wedding gowns. Discount bridesmaid dresses, flower girl dresses, cocktail dresses, prom dresses and wedding hair accessories can also be found in their selection. Discover jewelry, veils, headpieces, bags and other accessories for prices that easily fit into a wedding budget. Brides can find jewelry to give to their wedding party or an exquisite tiara to complement their gowns without spending too much money.
Knowing that brides everywhere are looking for a good deal on a wedding dress or discount bridesmaid dresses for their wedding party, Dragon Orient has the advantage of working as an exporter, sending quality, discount, formal dresses to wholesalers around the globe. Wholesalers can register on Dragon Orient's website and a Dragon Orient staff member will contact the wholesaler to start the process. Along with the wide selection of affordable wedding dresses, free custom services and OEM services are available for dresses and bridal accessories.
Fan stresses, "We work to ensure that we provide what brides and those involved with the wedding planning process are looking for, relieving the stress and anxiety that can sometimes come with the cost of planning of a wedding. We are able to export our quality merchandise internationally, meeting the needs of wholesalers in America, Europe, AU, NZ and the Middle East and as a result, making our merchandise available to individuals across the globe."
Regardless of where your wedding is being held, Dragon Orient has a dress to fit the occasion. From casual dresses to extremely formal, to maternity wedding dresses, their inventory runs the gamut of every type of wedding and location, all fitting within the confines of the ever-growing wedding day budget.
For additional information about Dragon Orient and their merchandise, please visit Dragonorient.com.
About Dragon Orient:
Since 2003, Dragon Orient has exported wedding dresses to wholesalers and retailers in the bridal business, providing wedding dresses and accessories to suit almost any budget. CEO Nelson Fan oversees the operations of Dragon Orient.
###