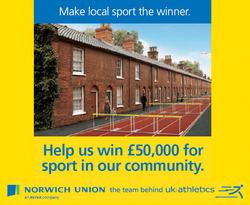 London, UK (PRWEB) September 13, 2007
Norwich Union, the team behind UK athletics, has just 6 days left for the "Join Our Team" campaign which is giving over 200 local initiatives the chance to win up to £50000.
Each initiative has the chance to win £1000 Bronze award if they receive 50 votes. There is an additional £12500, Silver award, for the initiative with the most votes in each of the 12 regions in the UK. Winners of the Silver award, along with the £12500, are entered into the final to win the national Gold award of £50000.
The initiatives range from the Tuesday Club in North Tyneside which allows young people with disabilities to have fun participating in their favourite sport to Fit 'n' Funky in the West Midlands which provides quality after school activities such as Karate, Street Dance and Yoga Bugs for primary age children.
Norwich Union is supporting athletics in the UK from playground to podium, making it easier for athletes to reach their full potential and for the next generation to get active, stay healthy and learn key life skills. Now it's time for you to play your part. It's easy and it's fun too.
As a member of the team, you will not only be showing your support for the Norwich Union GB & NI athletics team, you will also be able to help a local sports initiative in your region gain the chance to win valuable funding.
There is additional bonus of the chance to win a 10 night's holiday to Cape Town with £1000 spending money when you vote for an initiative.
With time running out on the campaign and the competition leader board heating up for Silver awards every initiative needs as many votes as possible.
Go to Join Our Team to register and to find out more information about the initiatives.
###