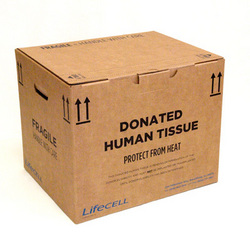 Plymouth, MN (PRWEB) September 13, 2007
Minnesota Thermal Science, LLC announced it has begun production of a new thermal container designed for shipping human tissue through standard shipping services. The container is designed to hold the human tissue within its safe temperature range of between 0º and 10ºC for up to 48 hours of transit time in either summer or winter conditions.
The first company to use the new container is LifeCell (LIFC) a leader in the development and commercialization of human-derived tissue based products for use in surgical procedures. The science and engineering staffs of the two companies worked closely together to develop, refine and validate the new container, including developing a closed loop distribution system for the containers whereby the units are refurbished, sanitized and sent back into distribution after each use.
Minnesota Thermal Science develops unique storage and shipping systems that maintain constant and predictable temperatures when transporting perishable medical materials. Its award winning 'Golden Hour' thermal technology has been adopted by military medics, blood banks and bio-pharma companies for transportation of temperature sensitive medical materials.
###