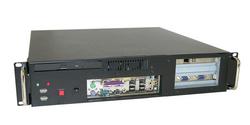 Walnut, CA (PRWEB) September 19, 2007
Walnut, California-based Acnodes Corp. today introduced a new 2U rackmount computer designed to allow easy access to all input and output interfaces normally found on the rear of rackmount computers.
Called the RM7217A, the new Acnodes model is what is known in the rackmount computer industry as a front mount. The motherboard is mounted at the front of the chassis but turned around so the I/Os soldered to the motherboard are available from the front of the unit. The RM7217A allows for three full-size expansion slots. All I/Os on add-ons cards installed also are available from the front.The chassis design still allows front access to a slim CD-ROM or DVD-RW. With it's 17" depth, the system is small enough to fit in most portable racks.The standard configuration includes an Intel Pentium IV 3.0GHz processor, 512MB RAM and 80GB SATA hard drive. Audio, video and network controllers are included on the motherboard. Custom configurations, including Intel Core 2 Duo processors, are also available.
Pricing and Availability
Pricing for the RM7217A starts at $665.00 and is available for immediate delivery.
Additional details can be found online at:
RMC7217A
To see another rack mount system Products can be found
Rack mount system
To buy this product or for more information call (909)-598-7388 or visit the Acnodes website at http://www.acnodes.com.
# # #