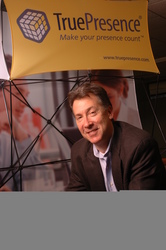 Sales, marketing and media professionals throughout the country are recognizing that almost every business has a need for consultative Internet marketing expertise.
Baltimore, MD (PRWEB) September 19, 2007
TruePresence, a national Internet marketing firm that helps businesses find, get and keep customers online, today announced that it has expanded to 20 markets nationwide with the addition of five new franchise owners. The new additions include Chuck Beardsley (Scotch Plains, New Jersey), Bruce Breeden (Ashville, North Carolina), Caterina McIntyre (Charleston, South Carolina), David Royal (Omaha, Nebraska), and Mike Vendal (North Detroit).
"Each local franchise has the power of the national TruePresence brand behind it, giving owners an incredible advantage to stay competitive in today's increasingly wired world," said TruePresence President Michael Teitelbaum.
With the welcoming of their 20th franchise owner, TruePresence has doubled their number of locations in just one year. Teitelbaum says the rapid growth is on pace with expectations and is representative of the significant opportunity in the Internet marketing industry.
"With twenty franchises and counting, TruePresence is on track to achieve the truly national presence we've envisioned," said Teitelbaum. "Sales, marketing and media professionals throughout the country are recognizing that almost every business has a need for consultative Internet marketing expertise."
TruePresence was founded in 2005 to meet the growing demand for effective Internet marketing programs that generate measurable results and demonstrate a solid return on investment. Key services include web design and development, search engine marketing, email marketing, online advertising, hosting and support.
Franchise owners are a carefully selected group of experienced marketing and sales professionals, trained and educated to offer clients the most powerful and effective solutions for their specific business needs.
New Franchise Owners & Markets
Chuck Beardsley - Scotch Plains, New Jersey
Chuck brings 17 years of local, national and international marketing experience to TruePresence. Chuck's marketing career began in the music industry, where he worked as a concert producer throughout the US, Mexico, and South America, most notably for the premier Ritz nightclub in New York City. Chuck also served as Manager of Acquisitions for Polygram Diversified Entertainment, developing merchandising strategies for up-and-coming artists.
Bruce Breeden - Asheville, North Carolina
Bruce brings over 20 years of proven achievement in building effective marketing strategies and general business management to TruePresence. Most recently, Bruce served as the Director of Global Services for Thermo Fisher Scientific, a $9B global life sciences company. Bruce developed a strategic plan to focus on both traditional after-market support and emerging value-add services for a $100MM global business organization. Prior to Thermo Fisher Scientific, Bruce completed a 23 year career with Beckman Coulter Inc., a $2B global medical diagnostics and life sciences company, leading their post-sale support organization and implementation of a global CRM initiative focused on customer acquisition and retention strategies as part of a strategic customer care program.
Caterina McIntyre - Charleston, South Carolina
Caterina brings over 15 years of marketing experience to TruePresence, having served in various sales, marketing and business development roles for companies like Comcast, AT&T Broadband, Net2Phone, Cablevision and TKR. Most recently, as a Regional Senior Director of Marketing for Comcast, Caterina was responsible for customer acquisition, retention and new product launches. She developed and implemented strategic marketing plans including pricing models, direct mail, traditional media and Internet marketing tactics that helped achieve targeted revenue and cash flow growth goals. She now enjoys sharing her knowledge and helping clients achieve greater success through the Internet marketing strategies developed by TruePresence.
David Royal - Omaha, Nebraska
David brings 30 years of sales, contract administration, and project management experience to TruePresence's first Midwest office. Much of that time was spent as owner of a building automation and control systems company. Dave will build his TruePresence business through his many business contacts in organizations where he holds leadership positions. Once established, he plans to bring his sons Brad and Todd into the business.
Michael Vendal - Detroit, Michigan
Michael's entire career has centered on providing his clients with sales and marketing expertise and solutions that leverage technology and the Internet to support business. Most recently, he served as the Chief Information Officer of Carhartt Inc., a premium outdoor gear and clothing manufacturer. While at Carhartt Inc., he led cross-functional teams to design, build and implement various ecommerce initiatives, including the company's first direct-to-consumer channel of distribution via the web. Michael holds an MBA and Bachelor of Science degree from Wayne State University, with emphasis in both Marketing and Information Systems.
Nationwide, TruePresence now has offices in the following cities and markets:
1. Austin, Texas
2. Asheville, North Carolina
3. Baltimore, Maryland
4. Boca Raton, Florida
5. Central Virginia
6. Central Connecticut
7. Charleston, South Carolina
8. Denver, Colorado
9. Detroit, Michigan
10. Ellicott City (Howard County), Maryland
11. Fairfield County, Connecticut
12. Greenville/Spartanburg, South Carolina
13. Omaha, Nebraska
14. Orlando, Florida
15. Reston, Virginia
16. Scotch Plains, New Jersey
17. St. Petersburg, Florida
18. Springfield, Massachusetts
19. Wilmington/Newark, Delaware
20. Worcester, Massachusetts
About TruePresence
TruePresence is a national Internet marketing firm dedicated to helping businesses of all types and sizes find, get, and keep customers. The company's unique franchise approach lets clients work strategically with a local consultant, while a national team of web design, development, and online marketing experts manages the fulfillment of each client solution. Headquartered in Baltimore, Maryland, TruePresence currently has 20 franchise offices operating across the country and is actively expanding to new markets. For more information, visit http://www.truepresence.com.
Media contact:
Greg Abel
Abel Communications for TruePresence
410-466-0049
###