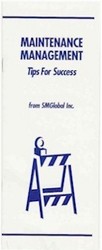 Maintenance Management -- Tips For Success
Apex, NC (PRWEB) September 25, 2007
SMGlobal Inc. (http://www.smglobal.com) announces the availability of the e-booklet "Maintenance Management -- Tips For Success". This handy e-booklet contains information useful to maintenance personnel of all experience levels.
The e-booklet contains tips and advice on how to set up and manage a successful maintenance management program. It covers items like identifying program goals, putting together solutions, planning, team management, reporting, controlling costs, etc. It is priced at $10 a copy and is available in Adobe's PDF (Portable Document Format). To purchase a copy or get more information please visit http://www.smglobal.com.
About SMGlobal Inc.:
Founded in 2002, SMGlobal Inc. is based in Apex, North Carolina. SMGlobal has been a member of Microsoft's Certified Partner program since 2004. SMGlobal's FastMaint CMMS maintenance management software earned SMGlobal Microsoft's ISV/ Software Solutions Competency in 2006. FastMaint CMMS is used worldwide by a variety of organizations for plant maintenance, facility and building maintenance, resort and restaurant maintenance, fleet maintenance and more. Customers include Carnegie Mellon University, CIGNA, General Dynamics Robotics Systems, the General Services Administration (GSA), Mars Pet Care, Northrop Grumman Corporation and Westin Hotels. For more information, contact SMGlobal at (919) 647-9440 or visit http://www.smglobal.com.
All products mentioned are registered trademarks or trademarks of their respective companies.
Contact: SMGlobal Inc.
Phone: +1 919.647.9440
Web: http://www.smglobal.com
# # #