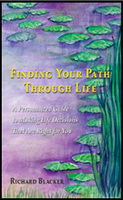 In this wise book, Blacker has given the reader concepts, ideas, and thoughtful exercises that will be worth the reading in itself.
Los Angeles, CA (PRWEB) October 2, 2007
It's a fact: Baby-Boomers, Gen X'ers and Gen Y'ers alike experience ever-increasing dissatisfaction in the workplace, and divorce rates are at an all-time high. In Finding Your Path Through Life ... A Personalized Guide to Making Life Decisions That Are Right for You, Richard Blacker's blend of insight and simplicity is, in and of itself, a path to creating better relationships, more satisfying careers, and more enduring peace of mind in all aspects of life.
Complete with a built-in workbook, Finding Your Path Through Life offers a hands-on approach to time-honored wisdom; Blacker's trademark candor and accessibility invite the reader on a journey of self-exploration to determine personality type, specific causes of unhappiness, decision making styles, life goals, and blueprints for living an individual's most fulfilling life.
Using his unique "10 Big Truths"™ Blacker will lead you through strategies to:

Learn how the world really works, and how to find your place in it.
Discover the best direction for your career and life - the direction that fits your talents, skills, needs and desires.
Make all of your decisions without fear - in a simple, easy, powerful and relaxed way.
Stop being bothered by how others act toward you! Build satisfying and easy relationships.
Get your life on track and keep it on track.
As heard on National Public Radio, Richard Blacker is more than just a self-help guru; he speaks with wisdom garnered from years of experience as an attorney, engineer, pilot, traveler, philanthropist, public speaker, writer, husband and father. Using the profound quotes and entertaining anecdotes that punctuate this step-by-step manual, Finding Your Path Through Life introduces the reader to both the process of creating one's ideal life and the universal truths needed for maintaining that life.
"In this wise book, Blacker has given the reader concepts, ideas, and thoughtful exercises that will be worth the reading in itself."
Dr. Linda Seger, author, Web Thinking: Connecting, Not Competing, for Success
Finding Your Path Through Life
Learn more at http://www.middlepathpress.com
###